First pictures of David Cameron's new daughter released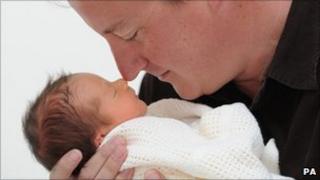 The first pictures of David and Samantha Cameron's baby daughter Florence have been released.
Florence was born in the Royal Cornwall Hospital in Truro on Tuesday after Mrs Cameron gave birth earlier than expected.
The prime minister and his family are in Cornwall on a two-week summer holiday.
Mrs Cameron and Florence left hospital on Friday and Mr Cameron has said he will take paternity leave.
Florence's full name is Florence Rose Endellion Cameron.
The Camerons' fourth child, she was born weighing 6lbs 1oz following a caesarean delivery.
Her parents revealed on Wednesday that they had chosen Endellion - after the Cornish village of St Endellion - as one of their daughter's middle names, to reflect the county of her birth.
The Camerons' first child, Ivan, who was born profoundly disabled and needed round the clock care, died in February 2009.
They have two other children, Nancy and Arthur, who are six and four years old respectively.
It is the second time since 2000 that the wife of a sitting prime minister has given birth.
When Cherie Blair gave birth in May 2000 it was the first time a serving prime minister's wife had given birth for more than 150 years.
Mr Cameron will become the first British prime minister to take statutory paternity leave since it was introduced in 2003.
He had been due to return to work next week, but it is not yet known how much paternity leave he will take.
Deputy Prime Minister Nick Clegg, who is covering for Mr Cameron, said on Friday that he would "just carry on holding the fort" until the prime minister returned to Downing Street.