Web praised for helping Britons get out and walk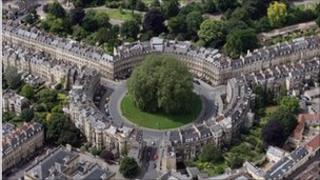 The internet is encouraging more people to head outside and go on walks, according to the National Trust.
The charity said there was a 20% increase in the number of people who have downloaded walking guides from their website since 2009.
People taking "staycations" and a focus on the health benefits of walking were said to be behind the rise.
A walk giving a panoramic view of the city of Bath was the most popular, with Alderley Edge, Cheshire, second.
The National Trust's website has more than 180 downloadable walks around their properties and parks.
It is aiming for 8,000 guides to be available by 2012.
So far this year, 190,000 guides have been downloaded. The total for 2009 was 250,000.
Currently, they are averaging 800 downloads per day.
Although guides for cycle routes and canoeists are also available, the trust said walking was by far the most popular.
Mike Collins from the National Trust said: "As we own iconic areas, we are lucky with the amount of routes we have across the countryside.
"We own and manage a quarter of the Lake District and large chunks of land in national parks such as Dartmoor and the Yorkshire Dales.
"These walks have something for everyone - whether you want a short stroll around a circular route with a tea room at the end of it or a more challenging eight-mile hike."
The most popular time for rambling was between Christmas and New Year.
The shortest route it offers is a half mile (800m) trek around Farne Island just off the Northumberland coast to look at the puffins.
Mr Collins said Bath was the most downloaded as it was a popular weekend city break destination.
"The walk shows a completely different view of the city.
"It has seven hills like Rome, and you can go to these locations and look back at the city and still get a panoramic view."