UK economy growth figures considered in Saturday papers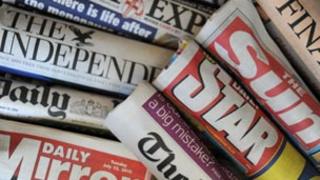 The strength of the UK's economy is scrutinised in Saturday's papers after revised figures suggest 1.2% growth in the second quarter of 2010.
The Daily Mirror says Labour's economic policies led to what it describes as "stunning growth figures".
But the Financial Times reports that although the UK economy grew at its fastest pace in 11 years, "serious doubts remain that the momentum of recovery can be maintained".
The Daily Mail fears the US is facing a second recession, adding: "So don't get too excited about our growth spurt."
The BBC's future is debated in several papers following a high profile speech by its director general, Mark Thompson.
The Independent says "those who want to shrink and neuter" the corporation "must not be allowed to get their way."
It says the BBC's "most aggressive opponents are not disinterested commentators" but have their own "specific commercial agendas".
And the Guardian describes Thompson's speech as a "scathing attack on Rupert Murdoch's media empire".
The contest between the Miliband brothers for the Labour leadership has aroused the interest of the papers.
The Independent's Andrew Grice sees the race as personal - a "Cain and Abel fight" with the potential to turn into a lasting "psychodrama".
And the Times reports a threat by the GMB union to reconsider its donations to Labour if Ed Miliband does not win.
It says the comments "coincide with signs of a deepening rift" between the brothers over the party's future.
The Sun's lead story is about the wife of England footballer Joe Cole being carjacked - an attack that left her "seriously traumatised".
The paper and the Daily Express both report that Justice Minister Crispin Blunt has split up with his wife because he wants to "come to terms" with his homosexuality.
And the Daily Star reveals that one in four lap dancers has a degree.
It says arts degree students are most likely to pursue this type of work.