Suicide-bomber's widow loses legal aid challenge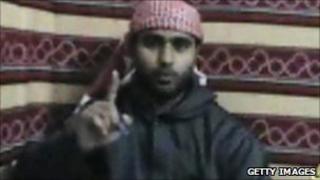 The widow of a 7/7 suicide bomber has lost her High Court bid to overturn a decision refusing her legal aid.
Hasina Patel had wanted legal aid for representation at the forthcoming inquest into the deaths of 52 people in the attacks in London.
She was married to suicide bomber Mohammad Sidique Khan, from Leeds.
But Lord Justice Thomas and Mr Justice Silber said the decision by the Lord Chancellor "cannot be described as unreasonable or irrational".
A hearing held earlier this week had heard an argument on her behalf that the decision to deny her legal aid was "unfair, irrational and unlawful".
Khan was one of the four men who carried out the suicide bombings on London's transport network in July 2005.
Lord Justice Thomas said the court heard how Ms Patel "was interested to understand why her late husband and the other bombers acted as they did" and sought "an opportunity to ask questions of witnesses at the inquest which bore on their knowledge and experience of her husband and others".
Rejected applications
The judge said: "Far from providing any information that might assist the wider public interest, she has flatly and unequivocally declined the opportunity to do so.
"Although requested by this court to show how she could help establish why her late husband and the others, whom she knew acted to murder fellow citizens, she has provided not an iota of evidence to us which could show how in some way she could bring a wider benefit, let alone a significant benefit to the inquests or to the understanding of the victims of the bombing."
He also said there was "no basis on which the Lord Chancellor could properly have come to any decision other than the one he had reached".
It was revealed in April that ministers had rejected two legal aid applications by relatives of the bombers, ruling they did not meet the criteria for public funding for their legal team.
The government has already agreed for legal aid to be offered to the families of the four 7/7 bombers' innocent victims of the attacks.
Dismissing the case of Ms Patel - who has since remarried - the judge said there was "no reason that we can discern why the interests of the claimant, on the basis of the information before us, cannot be fully and properly dealt with by her giving a statement of the background of her late husband and others to the legal team acting for the coroner".
He added: "Indeed, as a resident of the United Kingdom, it must have been her duty to have supplied all that information by now."