DEC Pakistan floods appeal hits £40m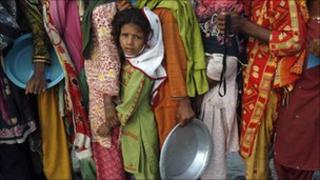 The British public has given £40m to help the victims of the Pakistan floods, charities have said.
The Disasters Emergency Committee (DEC) said donations to its flood appeal have soared by more than 70% from the second week to the third.
The latest figures show the appeal raised £9.5m in week one, £11.2m in week two and £19.3m in week three.
The DEC said it had never seen such a pattern of giving for any appeal in its 45-year history.
It said donations usually spike sharply in the first week after appeals were broadcast, and then drop significantly in the second and particularly the third weeks.
This was the case even for the largest appeals, such as the one earlier this year for the Haiti earthquake, it said.
'Crisis point'
DEC chief executive Brendan Gormley said the response was unprecedented.
"This belies all talk of donor fatigue. Growing awareness of the sheer scale of the disaster has seen the public continue to respond to the needs of people who are in dire need of help. Their generosity has been astounding," he said.
"Sadly, for many who have yet to be reached, the situation is still at crisis point. Aid agencies are on the ground doing all they can to reach people, but support is needed for that work to continue."
He added: "We cannot over-emphasise the need for more donations and the public's ongoing support if we are to continue saving lives."
The Pakistan floods have claimed over 1,500 lives so far and directly affected over 17 million people.
The DEC is an umbrella organisation of 13 UK humanitarian aid agencies - ActionAid, Age UK, British Red Cross, Care International, Cafod, Christian Aid, Concern, Islamic Relief, Merlin, Oxfam, Save the Children, Tearfund and World Vision.
So far, DEC member agencies and their partners have reached over 800,000 people.
If you would like to make a donation to help people affected by the floods in Pakistan, you can do so through the UK's Disasters Emergency Committee at www.dec.org.uk or by telephone on 0370 60 60 900.