Family of dead scientist ignorant of his secret world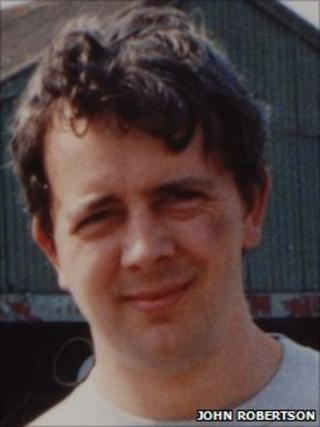 An inquest jury has found that explosives expert Terry Jupp died following top-secret trials which were not appropriately planned. He died eight years ago after mixing chemicals at a testing station in Essex.
Terry Jupp was a chemist. He worked for the Ministry of Defence.
He did not talk about his job. He could not as much of what he did was highly classified, top-secret work in the interests of national security.
"We didn't know anything," his mother, Anne Jupp, told BBC News.
"I think I did ask him once. I said: 'What sort of job do you do, Terry?'
"'Something to do with plastics,' he replied."
His sister, Alison Davis, says she was stunned but incredibly proud to find out exactly what her brother did.
Homemade bombs
The secret world of Terry Jupp slowly began to emerge as he lay fatally injured in hospital. Between 60 and 90% of his body was burned when he was engulfed in a fireball at the MoD's test firing range - operated by private contractor QinetiQ - at Foulness Island in Essex.
As part of a joint US-UK counter-terrorism project, the 46-year-old had been conducting experiments with improvised explosives - homemade bombs - to assess the capabilities of organisations such as al-Qaeda.
Mr Jupp, a senior chemist with the Forensic Explosives Laboratory, had been working with a 10kg (22lb) mixture of three substances in a paint container when it unexpectedly ignited.
The plan had been to prime the mixture and then take it to a remote part of the range where it would be detonated, far away from the small group of scientists and experts.
There had already been several similar test firings, using different combinations and ratios of various materials.
But on 14 August 2002 something went tragically wrong and Mr Jupp died from his injuries six days later, leaving behind his wife Pat and two children, then aged 11 and 15.
Shrouded in secrecy
For eight years his family had unanswered questions, and now the inquest has provided some explanations about what went wrong and why.
But many of the details remain shrouded in secrecy.
The inquest jury had to sign a non-disclosure agreement, the lawyers had to be security vetted, and while Mr Jupp's family were allowed access throughout, the media and public were excluded during the most sensitive evidence.
The American participants - almost all of whom refused to come and testify - were given anonymity, referred to only by letters of the alphabet.
We were told nothing of the US organisations said to have initiated and funded the trials, except that one of them was a branch of the National Security Council in Washington DC.
As for the lethal mixture that killed Mr Jupp, it consisted of substances known only as A, B and C.
It was said that such secrecy was required because it would be "catastrophic to both the UK and US national security if the results of the tests were compromised in any way by the criminal or terrorist fraternity".
There is, of course, always a risk when handling explosives, but was Mr Jupp just unlucky or could more have been done to prevent this terrible accident?
Bill Warren, a laboratory manager involved in research and development for the Ministry of Defence and later the defence company QinetiQ, said: "It was avoidable. It should never have happened. He was let down."
Mr Warren, now retired, says it certainly was not Mr Jupp's fault.
"I knew Terry. He wasn't a cowboy. He was professional, very experienced," he added.
Before any large-scale trials of potentially dangerous chemicals are carried out, he said tests of very small amounts of the ingredients should first be conducted in a laboratory.
He told the inquest he had checked his database going back 40 years but had no record of any small-scale test on the fatal mixture.
'Pain never goes'
A month after the fatal accident, Mr Warren was asked to test the substances involved. He used just 27 grams (just under an ounce) but within 10 minutes of it being mixed together, it spontaneously ignited.
He described it as a whoosh, a rapid burning, like a firework going off.
So did Mr Jupp know what he was working with?
The inquest heard he was not wearing full protective clothing and the paint container used had the wrong ingredients listed on the label.
There were allegations that the list of proposed test firings was changed at the last minute. The Americans claimed the fatal mix was not on the original list and was not authorised by them.
Dr Maurice Marshall, a renowned explosives specialist and the man in charge on the day, flatly denies these claims.
He told the inquest jury Mr Jupp knew what he was doing and had not expressed any concerns. He said no-one involved had thought there was a safety hazard.
After a police investigation, Dr Marshall and another scientist working with him, Bob Weighill, were charged with the manslaughter of Mr Jupp through gross negligence. All charges were later dropped.
Following the inquest verdict, Mr Jupp's family believe they finally have some idea of what happened and why.
"It's eight years," his mother Anne said. "But the pain never goes."