Newspaper review: Papers weigh up Asil Nadir case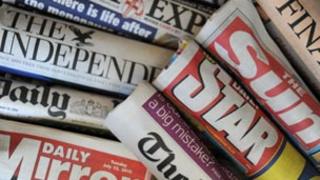 The Times carries a photograph of the fugitive businessman Asil Nadir, in its words, taking flight again.
This time, rather than fleeing justice, the former Polly Peck boss is returning to the UK to face it.
But the Guardian says that with ageing witnesses, lost documents and a 17-year time lapse, the case could be derailed.
The Daily Mail says Mr Nadir slipped instantly into the gilded lifestyle he left behind, moving into a £20,000-a-month house in Mayfair.
Leader plans
There is much talk of the state of play in the Labour leadership contest.
The Financial Times says Ed Balls will warn that the coalition risks pushing the UK into a double-dip recession.
Writing in the Guardian, Andy Burnham sets out what the paper sees as radical plans for council tax and stamp duty as well as inheritance tax.
Ed Miliband tells the Daily Mirror he has not spoken to his brother David for two weeks, but insists the contest will not damage their relationship.
'Fern effect'
The Guardian observes that there was a ninefold rise in the number patients turning to surgery for obesity between 2003 and 2008.
The Daily Mail puts this down to what it calls "the Fern effect" - the TV personality Fern Britton lost five stone after having a gastric band fitted.
The Daily Express says it is shocking that the NHS spent £29m on obesity surgery in 2008 - while some patients are being denied vital cancer drugs on cost grounds.
Miracle baby
Many of the papers consider a literally heart-warming story from Australia.
The Sun has "before" and "after" photos with a difference, as it shows grieving parents Kate and David Ogg crying over their dead newborn baby Jamie.
Beside it is a photograph of the joyful mother, whose two-hour cuddle appears to have brought her son to life.
In the Daily Mirror, Dr Miriam Stoppard explains there is a lot of research supporting the benefits of skin-to-skin contact between mothers and newborns.