Call for inquiry into Iraq War civilian deaths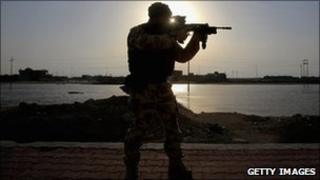 A full judicial inquiry into all those killed in the war in Iraq should be held, a campaign group has said.
The UK-based Iraq Body Count group said the Chilcot inquiry into the war had paid only "derisory" attention to Iraqi casualties in the conflict.
The group said the inquiry had instead "obsessed minutely" over conflicts between politicians and generals.
"One would almost think that the Iraq war largely took place in Britain," Iraq Body Count said in a statement.
Chairman's letter
The organisation said there had been at least 106,000 civilian deaths in Iraq since 2003 when the war started.
It said it received a letter in November from inquiry chairman Sir John Chilcot saying the information the group had obtained would be "very useful" for his team.
At the start of this year, Iraq Body Count said violence against civilians in Iraq dropped dramatically in 2009, with the lowest death toll since the 2003 US-led invasion.
It put the number of civilian deaths for the year up until 16 December at 4,497, less than half the 2008 total of 9,226.
During the inquiry hearings, former armed forces minister Adam Ingram said the government probably should have tried to establish how many Iraqi civilians were killed in the war.
He said: "Establishing that fact wouldn't have altered where we were because we couldn't, in one sense, easily have stopped the civilian casualties."
Mr Ingram added: "The establishment of the facts probably should have been carried out by elsewhere in government. I don't really think it was a Ministry of Defence function in that sense."
Calculating such a figure, Mr Ingram told the inquiry, would have put British lives at risk.
"If I had been asked as the minister of the armed forces 'are you prepared to put units in every one of the hospitals to count the bodies in and the bodies out?', and it was my choice, 'no' would have been my answer," he said.
Sir John has said the inquiry committee will visit Iraq later this year and that he intends to publish his report after nearly seven months of public hearings by the end of the year.