The Yorkshireman hoping to be Bavaria's Samuel Johnson
By Patrick Howse
BBC News, Munich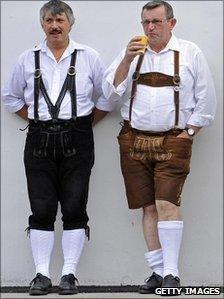 "You can tell it's a Catholic nation as soon as they swear at you," says the Yorkshire academic playing a key role in the preservation of Bavaria's national language.
Anthony Rowley is a thoughtful academic and says himself that he has a "cool and intellectual" approach to his subject. But there is no disguising his enthusiasm for Bairisch, Bavaria's regional language.
The variant of German is still widely spoken throughout the country's most southern state, and an ambitious 45-year-long project to record the tongue's sometimes colourful idioms has now started.
"The cussing and swearing is very like listening to the Irish for an Englishman," he says, "and then you'll get a whole string of blasphemies all tacked on to each other, so you end up with a swear word 80 letters long."
A specialist in German dialects, Mr Rowley has made Germany his home for the past 35 years, and there is now more of Munich than Leeds in his accent.
He began his career by studying Cimbrian - the German variant spoken in remote Alpine areas of northern Italy. He thinks that there is something about mountain terrain which fosters separateness.
"Mountain dialects survive longer," he says, "simply because communication between areas is more difficult".
He believes that is a factor in the continued flourishing of the Bavarian language, and cites the large number of comparisons based on the rural landscape and farming.
For example, if a Bavarian wished to describe a well-endowed woman, he might use the phrase 'Hoiz vor da Huett'n; literally, this might be translated as 'wood in front of the hut'.
"You can see why it would be an attractive image for mountain people where a good stock of firewood might mean the difference between life and death in a bad winter," Mr Rowley says.
"Small scale farming only died out in living memory, so things like this have had a big impact on the language."
Germany was only united 140 years ago, and the many pictures of Bavaria's most famous king, Ludwig II, in Munich's beer halls and taverns are a testament to the region's sense of being different from the rest of the country.
The language is still widely spoken, and after a period of decline up until the 1970s - when it was seen as a barrier to career and social advancement - it is now enjoying a renaissance. The language regularly features in films, cabaret and other forms of popular culture.
"There are quite a lot of self-assured Bavarians, with a very strong sense of their homeland's identity," says Mr Rowley.
So just how different is Bavarian from Hochdeutsch, Germany's official language?
"Bavarian has its own accent, pronunciation, and sometimes grammar. It's rather like a cockney going into a Glasgow pub, or someone from the Bronx expecting to be understood in the deep south of the USA."
Mr Rowley's team compile 100 pages of their dictionary every year. With the help of 500 volunteers across Bavaria, they have amassed millions of index cards and cross referenced tens of thousands of words and phrases. But there is a long way to go.
The project - funded by the Bavarian State Ministry of Science and Arts - has so far resulted in one volume (A to Bazi) of a work that will be between eight and 10 volumes long by the time it is finished.
Some 800 copies of book one have been printed and an online version is being considered.
"It's a very methodical, painstaking job," says Mr Rowley. He expects it will be finished in about 2050 - by his successors.