Two Britons survive Philippines bus siege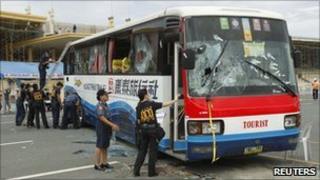 Two British nationals are among the survivors from the Philippines bus siege, the Foreign Office has said.
Eight tourists were shot by a rogue policeman who had hijacked their bus and held them hostage - he was later killed after the bus was stormed.
A spokesman for the Foreign Office said it had offered consular assistance.
The Philippines will be holding a "thorough investigation" into the incident, according to President Benigno Aquino.
Survivors and experts have criticised the police for being indecisive and slow in their handling of the crisis.
Questions have been raised over how police failed to enter the bus before the tourists were shot by a 55-year-old former senior inspector called Rolando Mendoza.
The gunman had spent almost three decades with Manila's police force, but was sacked earlier this year over claims of extortion.
Mendoza had boarded the bus at Luneta Park in central Manila, and the siege took place across the eight-lane road inside the park.
There were 22 Hong Kong tourists taken hostage along with three Filipinos - a driver, a guide and a photographer.
Travel warnings
Nine people were freed after initial negotiations, and the driver fled, leaving 15 hostages on board until the end of the siege.
The police commander in the Philippine capital Manila, Leocadio Santiago, has defended the way his force dealt with the hostage-taking.
He told local television that it had been correct to let the siege continue until the bus driver escaped and reported that the hijacker had started shooting hostages.
Police then entered the bus, killing Mendoza.
In the last hour of the siege, police failed in an attempt to board the bus, being forced back by gunfire from the inside the vehicle.
They managed to get on board the bus almost an hour later. By that time, the gunman had been killed along with several passengers.
In Hong Kong a "black" travel warning has been raised, which urges all travel to the Philippines to be cancelled and calls on Hong Kong people in the Philippines to leave as soon as possible.