Judges warn against allowing over-70s on juries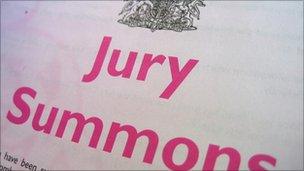 Allowing people aged over 70 to serve on juries in England and Wales could result in "substantial disruption" to criminal trials, judges have warned.
The Council of Circuit Judges was responding to proposals from the Ministry of Justice.
The judges said the plan may reduce loss of earnings payments but there could be more delays and court costs because of jurors' health issues.
The government said a decision would be made after the consultation ended.
The council, which represents more than 600 judges, said estimates indicating that up to 50% of over-70s would feel they were not up to the role of a juror was "significant and cannot be ignored".
It added it had come to the "firm conclusion that there is no compelling case to alter the status quo".
The comments are contained in a report by Judge David Swift, chairman of the council's criminal sub-committee, in response to a government consultation on the proposals.
Jurors in England and Wales need to be aged between 18 and 70. The upper age limit is also 70 in Northern Ireland, and 65 in Scotland.
In March, the Ministry of Justice said it was looking at a number of options, including raising the age limit for jurors by between five and 10 years or abolishing it.
It said the proposal was aimed at saving money and making juries more "inclusive".
But it acknowledged some older jurors had shown poorer recall and there was a risk of "less competent juries" and administrative costs, such as the need to process more paperwork for those who need to be excused on medical grounds.
The Council of Circuit Judges said any potential savings may turn out to be illusory and there was an "increased risk of greater cost in the long run".
It said: "There can be no doubt that increased numbers of jurors who do not enjoy the best of health would risk substantial disruption to proceedings.
"There would, inevitably, be an increase in 'days lost' as a result of illness or incapacity. Proceedings might be hampered by poor hearing, poor vision or physical disability.
"The costs of disruption are likely to exceed any cost benefit by utilising greater numbers of jurors who are not seeking recovery of lost earnings unless the numbers are unreasonably skewed."
The council also said there was no evidence of a shortage of jurors.
Its report added that many people eligible to serve as jurors were not called because they were not registered to vote.
"This, in itself, may require consideration if it is felt that the current pool is insufficiently large or there are some excluded from the process," it said.
Michelle Mitchell, director of campaign group Age UK, urged ministers to press ahead with the proposal.
"The composition of juries should be a true reflection of our society but the current age limit is clearly leaving people in later life under-represented, especially as our society is ageing fast," she said.
"As the upper age limit is removed, older people should be given the right to opt out of jury duty if they feel health or mobility problems would make attending trials particularly cumbersome for them."
A Ministry of Justice spokesman said: "The government has not yet taken a view on whether to make any change to the present upper age limit for jury service in England and Wales.
"We are considering all the consultation responses in detail and hope to publish our response later this year."
Related Internet Links
The BBC is not responsible for the content of external sites.