Pope's UK trip merchandise goes on sale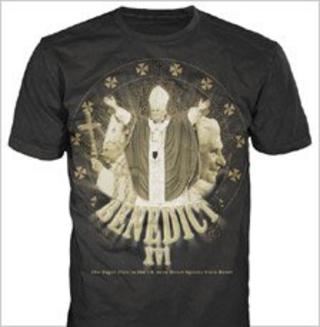 Official merchandise and commemorative memorabilia to celebrate the Pope's visit to Britain have gone on sale.
Souvenirs include papal flags, baseball caps, a Swarovski bracelet, prayer cards, candles and T-shirts.
Pope Benedict XVI is due to visit Edinburgh, London and Glasgow - at the invitation of the Queen - during a four-day trip in September.
The Catholic Bishops' Conferences of Scotland, England and Wales appointed IVS Group the official merchandiser.
Merchandise on sale also includes rosary beads, plates, jackets and key-rings.
T-shirts, which range from £15 to £20, include a beatification T-shirt with a retro-style picture of John Henry Newman and a black-and-white Pope Benedict T-shirt which features the Pontiff in profile.
Baseball caps cost £15, mugs are going for £8-£10 and a Swarovski bracelet will sell for £30.
Controversy
The first official Papal visit to the UK has caused controversy in the UK because of the cost and the scandal surrounding child abuse within the Catholic Church.
Pope John Paul II made a purely pastoral visit in 1982, but Pope Benedict XVI's trip will combine both pastoral events and formal state business.
On the first day of his trip, 16 September, the Pope is expected to meet the Queen at Holyrood House in Edinburgh.
The main event, a mass to beatify Cardinal John Henry Newman, who died in 1890, will take place on 19 September at Cofton Park on the outskirts of Birmingham.
During the visit, the Pope will also make a speech to representatives from the worlds of politics, culture and business at Westminster Hall in London and make a public appearance on the Mall.
In July, the government said the cost to taxpayers of the Pope's visit could rise to £12m, up to £4m higher than previous figures. The trip will also cost the Catholic Church £7m.