Fawcett Society in legal challenge to 'unfair' Budget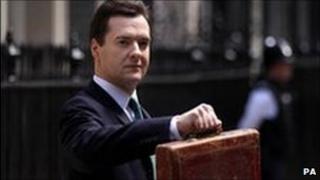 The government is facing a legal challenge to its Budget from a leading women's rights group which claims it could be unlawful.
The Fawcett Society has filed papers with the High Court seeking a judicial review of the austerity package.
It claims the coalition could have failed to fully assess whether its savings proposals would increase inequality between men and women.
It says £5.8bn of £8bn savings outlined in the Budget would come from women.
The Fawcett Society said the cuts would hit women far harder than men and described the Budget as "blatantly unfair".
It says women in public sector jobs would be more likely to be hit by pay freezes and job losses. Cuts in benefits and tax credits were also likely to hit them disproportionately.
The group said public sector cuts would hit women particularly hard since 65% of such workers were women.
Ceri Goddard, its chief executive, said: "Successive governments have failed to give enough consideration to how their policies will impact on equality between men and women, but this Budget shows a whole new level of disregard for the importance of equality law and everyday women's lives.
"The blatant unfairness and the sheer scale of the impact this Budget could have on women have left us little choice but to resort to the courts for action.
"In times of economic crisis it becomes more not less important to consider women's basic rights, and observe the laws put there to safeguard them.
"We know action is needed to cut the deficit but such critical decisions - especially such eye-watering cuts to public spending - should not have been made without considering the impact on women.
"It's ironic that a budget that in many other ways was the most transparent for decades seems to have failed to consider and publish its impact on half the population."
In announcing his plans to tackle the national debt in June, Chancellor George Osborne said "tough but fair" action was "unavoidable".
'Widespread ignorance'
The society has called on the government "to look again at the Budget" and urged it to ensure all government departments "undertake a robust and transparent gender equality impact assessment of proposals being discussed in the current spending review".
Its solicitor, Samantha Mangwana, of Russell Jones & Walker solicitors, said: "Although public authorities have been subject to the gender equality duty for several years now, there is widespread ignorance not only about how strong these laws actually are, but also what specific steps are required to be undertaken.
"However, the case law is crystal clear in spelling this out. Firstly, an equality impact assessment must be conducted before policy decisions are taken.
"Secondly, where an assessment reveals a risk of discrimination, urgent action must be taken to address those risks."
Writing in The Observer, shadow minister for women Yvette Cooper backed the legal challenge.
She said: "The new government's plans, from the budget to criminal justice, are peppered with policies that hit women hardest.
"At best ministers seem blind to women's lives; at worst, it's an ideological drive to turn back the feminist clock.
"The budget widens the gap between women and men, reduces women's financial independence and makes it harder for women to choose how to balance work and family life."
She added: "George Osborne expects women to pay three times more than men to accelerate deficit cuts, even though women still earn and own far less."
A spokesman for the Treasury said he could not comment on a legal matter before the court.