Royal Mail set to delete counties from addresses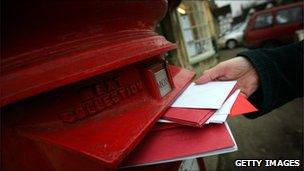 The names of counties appear set to be dropped from official postal addresses.
Royal Mail has been consulting on a plan to delete counties from the 28 million-strong address database used by companies and public bodies.
It follows complaints by customers to postal watchdog Postcomm about the use of out-of-date county names, such as North Humberside and Dyfed.
Any changes, which will not happen until at least 2013, will not affect deliveries, experts say.
They say the postal service requires a house number, street and postcode for delivery purposes, but the county name is not strictly necessary.
The official address database is known as the Postcode Address File and lists the addresses of every home and business in the UK.
Under its current licence, Royal Mail is required to maintain the database and make it available at a reasonable charge to private companies and public bodies who want to send out items or use it for market research.
Ian Beesley, chairman of the board that advises the Royal Mail on running the database, said county names had become "a kind of vanity attachment".
"People will still use counties, but for postal purposes you don't need it," he told the Daily Telegraph.
He added that some people might get upset as counties were part of the country's heritage, but insisted they were no longer necessary for business and administrative purposes.
In a document on the possible changes in May, Postcomm indicated that it recognised the strength of feeling against the use of out-of-date county information and encouraged Royal Mail to stop providing such information "at the earliest opportunity".
The regulator said this would result in a gradual phasing out over a number of years of instances where people received addressed mail which included the "wrong" county information.
Earlier this year, Mr Beesley's board advised the Royal Mail against dropping county listings until 2013 when its licence would be reviewed.
After that there would need to be a transitional period to minimise disruption, it added.
A Royal Mail spokesman said: "Royal Mail has consulted with PAF (Postcode Address File) users including government departments, solutions providers and postal operators.
"Users have raised concerns at the disruption to their services that the immediate deletion of this data would bring.
"They have requested that Royal Mail continue to provide this information as a separate file until the review of the licence in 2013, and that after this point there should be a transitional period if this data is to be removed."
Comments against keeping counties on addresses
Related Internet Links
The BBC is not responsible for the content of external sites.