Ex-Labour MPs and Tory peer lose expenses appeals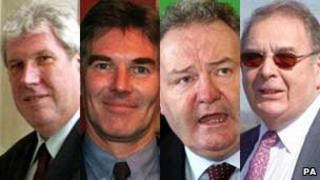 Three former Labour MPs and an ex-Tory peer facing expenses fraud allegations have lost appeals over a ruling that they are not protected by parliamentary privilege from prosecution.
Elliott Morley, David Chaytor, Jim Devine and Lord Hanningfield had argued at the Court of Appeal that only Parliament could hear their case.
The four all deny charges of false accounting over their expenses.
The charges carry a maximum sentence of seven years' imprisonment.
The men had appealed against a ruling in June by Mr Justice Saunders sitting at Southwark Crown Court in central London.
The judge had rejected arguments that they were protected by parliamentary privilege and should be dealt with by Parliament alone.
The Lord Chief Justice, Lord Judge, sitting with Lord Neuberger and Sir Anthony May, agreed with the judge's ruling.
Criminal trials
Giving the Court of Appeal judgement, Lord Judge said: "The stark reality is that the defendants are alleged to have taken advantage of the allowances scheme designed to enable them to perform their important public duties as Members of Parliament to commit crimes of dishonesty to which parliamentary immunity or privilege does not, has never, and, we believe, never would attach."
The four men are all on unconditional bail and face separate criminal trials as a result of the ruling.
However, they could take their case to the Supreme Court for a further challenge.
The charges against the men followed a nine-month police investigation triggered after details of all MPs' expenses claims were leaked to a national newspaper.
Mr Morley, the former MP for Scunthorpe, Mr Chaytor, formerly MP for Bury North and ex-Livingston MP Mr Devine were barred from standing at the general election after the allegations surfaced.
Lord Hanningfield, formerly leader of Essex County Council, has been suspended by his party.