Newspaper review: Focus on PM Pakistan 'terror' warning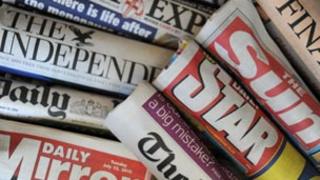 The papers all agree David Cameron has caused a diplomatic storm with his "export of terror" Pakistan warning.
The Times says his speech in India will "severely test" relations with Islamabad, while the Independent says Pakistani officials are irate.
The Guardian thinks the prime minister should remember the UK's relationship with Pakistan is important in order to extricate troops from Afghanistan.
But the Daily Telegraph praises Mr Cameron for "welcome clarity".
WikiLeaks attack
The paper says some see his recent foreign policy utterances as gaffes, others as bold truths, but one thing is clear, they are not dull.
The Times mounts a fierce attack on the WikiLeaks website for disclosing 90,000 military documents on the Afghan war.
The paper says ordinary people will die as a result, and condemns what it calls the "sanctimonious piety" of the website's founder, Julian Assange.
The Daily Mail reports workers will no longer be forced to retire at 65.
Flip-flop falls
The government's decision to scrap Asbos gets a mixed response.
The Sun says they were Labour "gimmicks" ignored by "yobs" but the Daily Express argues they would work if properly enforced.
With scientists predicting this year could be the hottest on record, the Mail has a timely reminder of the danger of wearing flip-flops.
It says the NHS spends £40m a year treating falls, joint pain and other conditions linked to the footwear.
Windbreak fine
The paper also reports that France's first lady Carla Brunei's limited acting experience meant her scene in a new Woody Allen film had to be reshot 35 times.
Meanwhile, the Express reports how a council told one family on a picnic in Bristol to take down their windbreak because it was "a semi-permanent structure".
The family were informed they risked a £500 fine for breaking by-laws if they did not remove the £12.99 windbreak.
The council admitted its enforcement officers had been "over-zealous".