Number of UK children taken overseas by a parent rises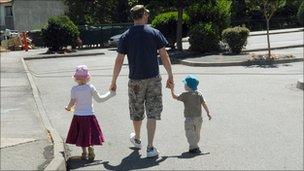 The number of British children abducted by a parent and taken overseas has increased in the past year.
Foreign Office figures show abductions to countries not signed up to a global abduction treaty rose by 39%.
There were 146 such cases - out of 213 to all countries - compared with 105 the previous year. The highest number of cases related to Pakistan.
The FCO warned most cases occurred in summer when a parent refused to return a child following a holiday abroad.
The convention provides a tight legal framework and means parents can apply to a UK central authority for their child's return.
It is far more difficult to get a child back from a non-ratifying country, where UK parents have to bring a claim under the domestic law of the foreign state.
Foreign Office Minister Jeremy Browne urged parents to be aware.
"International parental child abduction, whether intentional or not, can cause huge distress to families," he said.
"If a parent wishes to take their child to live in a new country they will normally need either the permission of the other parent or British courts."
He added that they had also dealt with cases where British nationals returned to the UK with their child after a relationship broke down while the family was living abroad.
"This is still likely to be considered abduction," he warned.
Thailand saw a jump in the number of parental abductors heading there, from two in 2008/2009 to 13 last year.
For India, the number rose from four to 14.
Altogether the FCO's Child Abduction Section dealt with 213 cases of parental abduction in the past 12 months, with the majority of cases - 29 - taking place in August.
But this included cases covered by the Hague Convention, which would have then been passed on to one of three central authorities specifically covering either England and Wales, Scotland or Northern Ireland.
Sarah Taylor, whose daughter was abducted by her father, said the UK government had to do more to prevent parents from taking children to countries which had not ratified the convention.
Her seven-year-old daughter, Nadia Fawzi, was abducted when she was four and taken to Libya - thousands of miles away from her home in Wigan in Greater Manchester.
Mrs Taylor moved to the North African country and eventually won custody, but it took involvement at the highest level from Gordon Brown and the Libyan leader Colonel Gaddafi.
She told the BBC News website: "It was a real fight to get her back but there was no way I was going to let her live without her mother.
"When I first saw her again after two-and-half years, she only spoke Arabic and it took a bit of time to be able to communicate with her again but she's my daughter and I would do anything for her.
"Her father can come and visit her but she's settled now."
For Bhanu, not her real name, the struggle to get her seven-year-old daughter - who was taken to India by her husband last December - back to the UK is ongoing.
"I had to appoint an Indian lawyer to win custody of my daughter, which I won, but my husband appealed so my daughter is still there," she said.
Bhanu is still awaiting the outcome of the appeal.
"I even had a court order to say [my husband] wasn't allowed to take her out of the UK, but seven months on I'm still trying to bring her back home to me."
Sharon Cooke, from the Reunite International Child Abduction Centre, said parental abduction was becoming more prevalent as more people embarked on relationships with nationals from other countries.
She said the psychological impact on children could be traumatic and said there were a number of warning signs.
A change in either parent's behaviour
A breakdown in a relationship or marriage
One parent expressing a wish to take the children on holiday - perhaps even on their own without the other parent
One parent expressing a wish to move back to the country where the extended family lives
She said: "For the left-behind parent, the shock and the loss are unbearable, particularly if they don't know where their children have been taken to.
"Even after they have been found, the fear and pain of not knowing if their children will return home is unimaginable."
Related Internet Links
The BBC is not responsible for the content of external sites.