'Friendly fire' soldier killed in Afghanistan is named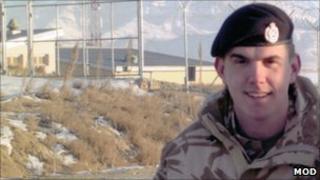 A soldier killed in a suspected "friendly fire" incident in Afghanistan has been named by the Ministry of Defence as Sapper Mark Antony Smith.
The soldier, from 36 Engineer Regiment, died on Monday while serving with the Counter-IED Task Force in the Sangin area of Helmand.
His family and friends paid tribute to the 26-year-old, from Swanley in Kent, and in a statement published by the MoD, called him "an inspiration".
The MoD is investigating his death.
The MoD said on Tuesday that a smoke shell, designed to provide cover for soldiers working on the ground, "may have fallen short of its intended target".
His death took the total number of British military personnel killed on operations in Afghanistan since 2001 to 325.
'Loyal friend'
Sapper Smith was part of a search team supporting 40 Commando Royal Marines Battlegroup, Combined Force Sangin, carrying out a clearance of improvised explosive devices when he was killed.
He joined the Corps of Royal Engineers in 2001 and was posted to 36 Engineer Regiment a year later. When he died he was working as a searcher in the Royal Engineer Search Team.
In the statement released by his family, they said:
"Mark Smith, fondly known by his friends as 'Smit' and army colleagues as 'Smudge', was truly unique.
"His cheeky grin could light up a room and his zest for life was an inspiration to us all."
They said he was a loyal friend and added: "Smit will be greatly missed but it is difficult to think of him without smiling as he had a unique ability to lift anyone from the most sombre of moods and was always the life and soul of the party.
"He loved his army life and his courage and bravery, all inspiring. Mark was a lovable rogue and the world will certainly be a sadder place without him."
Lt Col David Southall from the Royal Engineers said Sapper Smith left behind a mother and a brother and had been a "real character".
He said: "A scruffy, loveable, wheeler-dealer, he was often near to, but never seemingly the cause of, endless mischief.
"Big in character and big in heart, he'd charm his way out of the stickiest of situations and we loved him for it."
He said Sapper Smith had volunteered to return for a second tour of Afghanistan and had been an inspiration to the younger members of his team.
"He plied his trade daily, hunting out IEDs in the most deadly of areas.
"As an accomplished senior sapper the younger lads relied much on his presence, his sharp eye and quick wit sustained them all through thick and thin.
"Mark's death, a tragic accident, has shocked us all", he said.