NHS should use term fat instead of obese, says minister
By Nick Triggle
Health reporter, BBC News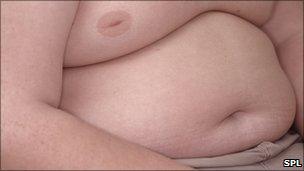 GPs and other health professionals should tell people they are fat rather than obese, England's public health minister says.
Anne Milton told the BBC the term fat was more likely to motivate them into losing weight.
She said it was important people should take "personal responsibility" for their lifestyles.
But health experts said the word could stigmatise those who are overweight.
Ms Milton, who stressed she was speaking in a personal capacity, said: "If I look in the mirror and think I am obese I think I am less worried [than] if I think I am fat."
She said too many staff working in the NHS were worried about using the term, but suggested it could help encourage "personal responsibility".
"At the end of the day, you cannot do it for them. People have to have the information," she added.
The minister spoke to the BBC after setting out the coalition government's vision for public health.
A white paper is expected to be published in the autumn, which she said would stress the combined role of the individual, state, business and society.
The comments come after Health Secretary Andrew Lansley last month attacked the "lecturing" of recent public health campaigns, such as the drive on school meals that followed Jamie Oliver's TV shows.
Professor Steve Field, of the Royal College of GPs, said he agreed with Ms Milton and already tried to use the term fat as much as he could.
"I think the term obese medicalises the state. It makes it a third person issue. I think we need to sometimes be more brutal and honest.
"You can be popular by saying the things people want to hear and in the NHS we too often do that when we should be spelling things out clearly."
But Professor Lindsey Davies, president of the UK Faculty of Public Health, which represents public health professionals, warned against using 'fat' when dealing with patients.
"People don't want to be offensive. There is a lot of stigma to being a fat person."
She said health professionals started using the term obesity to encourage patients to think about the condition in a different way.
"Obesity is something that happens to people rather than something they are. The language you use all depends on the relationship you have with a patient.
"I would probably be more likely to say something like 'can we talk about your weight' rather than obesity, but that is a judgement you make on a patient-by-patient basis."
Related Internet Links
The BBC is not responsible for the content of external sites.