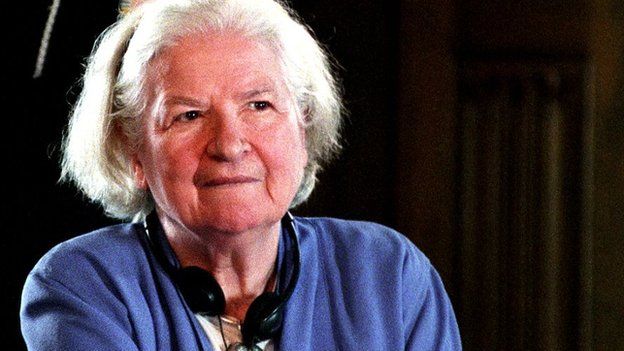 PD James was known as the Queen of crime fiction, the creator of the suave, cerebral police officer, Adam Dalgliesh.
She strongly rejected suggestions that crime novels were not proper literature, producing a string of well-researched and beautifully constructed stories to prove her point.
Phyllis Dorothy James was born in Oxford on 3 August, 1920, the daughter of a civil servant.
Her parents did not have a happy marriage; her mother was committed to an asylum when James was just 14, leaving her to look after the house and her siblings.
From her early days at Cambridge High School for Girls, she nurtured an ambition to write but was forced by the family's financial circumstances to leave school at 16 and find a job as a filing clerk.
In 1941 she married a medical student, Connor White who, shortly afterwards, joined the Royal Army Medical Corps and was posted overseas.
But he found the traumas of war too great to cope with and, after struggling to return to civilian life, was eventually placed in an institution, leaving James to bring up their two daughters alone.
With her husband incapacitated, James continued her career as a health service administrator, rising through the ranks until she eventually oversaw five psychiatric clinics.
She began writing seriously in the mid 1950s, composing parts of her first novel, while commuting to work.
"I realized that there was never going to be a convenient time to start that first novel," she told an interviewer in 1997. "If I didn't make time, find the motivation, I would be a failed writer and that would be absolutely appalling for me."
The resulting book, Cover My Face, published in 1962, introduced her readers to Adam Dalgliesh, the intellectual, poetry writing senior Metropolitan Police officer who would feature in most of her crime novels.
Dalgliesh was the latest incarnation of that bastion of English crime writing, the gentleman detective, epitomised by Lord Peter Wimsey and Albert Campion.
However, unlike them, Dalgleish was a serving police officer - as was Colin Dexter's Inspector Morse, who would follow a decade later.
The book was generally well received by the critics although one remarked that Dalgleish was "too quietly competent" in exposing the killer.
Her follow up, A Mind to Murder, was published just one year later. The crime took place in a psychiatric clinic with James drawing on her inside knowledge of the workings of the health service.
In 1964 her husband died following an overdose of drugs and alcohol and James moved to a new job in the criminal policy section of the Home Office. It would give her more useful background for future novels.
But it was not until 1980, with the publication of her eighth book, Innocent Blood, that her small but loyal following exploded into mass, international popularity.
"Monday, I was ticking along as usual, and by Friday I was a millionaire," she once said.
In all she wrote 14 Adam Dalgliesh novels, the latest, The Private Patient, was published in 2008.
Her novels were all elegantly written, with due attention to the proper use of English. Not for her the street argot of pot-boiler crime fiction.
The meticulous construction of the plot was everything, a talent she shared with her favourite author, Jane Austen.
The Sunday Times fiction editor, Peter Kemp once described her work as "brilliantly plotted with all sorts of good twists and turns"
She paid great attention to her research, drawing heavily on her experience in the NHS and the Home Office, against which backgrounds many of her novels were written.
In 2010, she told the Telegraph she had seen someone being fed through a tube during her days as a nurse.
"I remember thinking, 'that would be an easy way to kill someone.'" That duly became the method she used to dispatch a character in her fourth book, Shroud For a Nightingale.
But the author broadened her horizons with later books. A Certain Justice was set in the closed world of the London Inns of Court, while Death in Holy Orders used her knowledge of the Anglican Church, in which she served as a lay reader.
Her books were not cosy in the style of Arthur Conan Doyle and Agatha Christie. Her victims died in brutal and often shocking ways and the perpetrator was not always brought to justice.
"Doyle and Christie are genre writers - clever, yes, but one must suspend considerable disbelief right from the get-go when reading their works," said author Anita Shreve.
"No such acrobatics are necessary with a James novel."
But James admitted it could be hard to create such uncompromising characters.
"When I am writing about a killer, I am that killer. I am in his mind, which is probably why I don't have sadistic mass murderers as characters."
As well as her Dalgleish novels she published two books, An Unsuitable Job for a Woman and The Skull beneath the Skin, both featuring a female private detective, Cordelia Grey.
She wrote a pastiche of Jane Austen's Pride and Prejudice, Death Comes To Pemberley, in 2011, in which Mr Darcy and Elizabeth Bennet become embroiled in a murder-mystery.
In a complete departure from the crime genre her 1992 novel, Children of Men, was set in an England of 2021 where mass infertility threatened the future of the population. The book became an Oscar-nominated film in 2006.
She never got to grips with modern technology writing her novels by hand and then dictating the words onto tape to allow a secretary to produce the first draft.
"Dictating is quite useful," she once said, "because you can hear the dialogue, hear the structure of the sentences, the very subtle and peculiar usage that is English prose."
The Adam Dalgliesh novels were successfully adapted for television, first by ITV starring Roy Marsden then, from 2003, by the BBC with Martin Shaw taking the leading role.
James was in receipt of numerous awards and honorary degrees and served as a Governor of the BBC. She also kept in touch with the criminal classes by sitting as a magistrate in London.
She was appointed OBE in 1983 and, nine years later, was created Baroness James of Holland Park.
Although she rejected the liberal leanings of large parts of the modern literary world she hid her true political allegiance until 1997 when the election of Tony Blair prompted her to take the Conservative whip in the Lords.
In a 2009 speech she attacked what she called "the cult of political correctness," which, she said, actually raised barriers in society.
"If, in speaking to minorities we have to weigh every word in advance in case we, inadvertently, give offence, how can we be at ease with each other, celebrate our common humanity, our shared anxieties and aspirations."
When asked to be a guest editor on the BBC Radio 4 Today programme in December 2009, she lambasted Mark Thompson, the Corporation's Director General over the high salaries received by senior BBC executives.
As Thompson, not the most able communicator, stumbled and fell, the noble baroness deftly twisted her knife which, according to a Sunday Times review, "left him filleted like a fish."
Her performance prompted regular Today presenter Evan Davis to comment that "she should not be guest editing, she should be permanently presenting the programme.
While she took great satisfaction from the crafting of her novels James admitted that writing did not always come easily to her.
"There are moments when I'm rather reluctant to get started; the sort of day when even cleaning the stove seems an agreeable thing to be doing rather than start writing. But on the whole it is a labour of love."
Speaking to the BBC last November, the author said she was hard at work on a new detective novel.
"It does seem important to write one more," she said, but added: "I think it is very important to know when to stop."
Related Internet Links
The BBC is not responsible for the content of external sites.