Government 'laments' Afghan war documents leak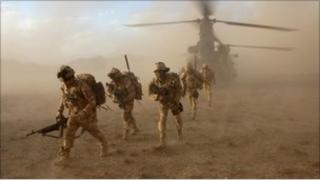 The government "laments" the leak of documents allegedly revealing cases of Afghan civilians killed by UK troops, Downing Street has said.
Reports say the Wikileaks website obtained more than 90,000 US military files and made them available to newspapers, including the Guardian.
The records include references to at least 21 incidents involving UK troops.
The Ministry of Defence said it had been unable to verify the claims and it would not speculate on specific cases.
The documents, which record fighting by coalition forces between January 2004 and December 2009, were also given to the New York Times and German weekly Der Spiegel.
A Downing Street spokeswoman said the UK government "lamented the release of classified material", but she did not want to comment on the details of the material.
Asked what the consequences were for UK forces in Afghanistan, Foreign Secretary William Hague said: "They don't mean anything for British troops. We are working hard with our allies in Afghanistan on improving security on the ground, in increasing the capacity of the Afghan government, so we are not going to spend our time looking at leaks."
Incidents said to have involved British troops included the son of an Afghan general being killed by a "warning shot" on the day of his brother's wedding in November 2007.
The bodies of two women and two children were said to have been found after ambushed troops called in helicopter gunships when a soldier was wounded in March 2008.
In November 2008, Royal Marines fired "warning shots" at a vehicle approaching a convoy and killed a child, according to the documents.
The files state that a laser-guided bomb killed eight civilians after Gurkhas mentoring a police unit ordered an air strike following an ambush in May 2009.
BBC world affairs correspondent David Loyn says the documents are "unspun, unvarnished" daily raw military intelligence from Afghanistan.
The MoD said it was checking its records to try to verify the veracity of the claims, and a number of the incidents may have been reported by the International Security Assistance Force (Isaf) at the time.
A spokesman earlier said "it would be inappropriate to speculate on specific cases without further verification of the alleged actions".
He added that UK forces "always do our utmost to ensure that we shield the civilian population from violence during the course of any military activity".
He added: "The MoD and Isaf have strict procedures, frequently updated in the light of experience, intended to both minimise the risk of casualties occurring and to investigate any incidents that do happen."
Rachel Reid, of campaign group Human Rights Watch, said: "What it amounts to is a lot of civilians being killed and a lack of honesty and accountability."
A spokesman for the Stop the War Coalition said the leaks showed "conclusively that the war in Afghanistan is pointless and unwinnable and the warmongers have lied to us continually".