Nick Clegg dismisses 'Brokeback coalition' jibe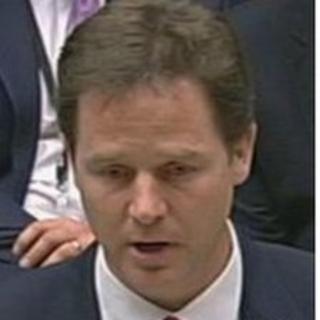 Deputy PM Nick Clegg has dismissed criticism of the coalition government from backbench MPs.
Ex-shadow home secretary David Davis reportedly repeated a description of the government as a "Brokeback coalition", referring to the Hollywood film about two gay cowboys.
Mr Clegg told the BBC it was a "colourful phrase" which did not capture the coalition "spirit".
Culture Secretary Jeremy Hunt has also brushed off the alleged insult.
The Financial Times reported Mr Davis was overheard making the comments during a private lunch. He has denied making the comments.
Meanwhile, Liberal Democrat MP Tim Farron has said many Tory MPs were "toxic".
'National interest'
Mr Farron claimed on Friday that David Cameron was using coalition partners as a "cover" for unpopular decisions.
Mr Clegg dismissed suggestions of tensions within the Tory-Lib Dem government.
Referring to the "Brokeback coalition" reference, he said: "It is a colourful phrase, but I do not think it really captures the spirit of the coalition, which is two separate parties led by two separate leaders - myself and David Cameron - recognising that this country is facing some very difficult short-term challenges."
He stressed it was about coming together "in the national interest" so that the economy grew, environmental challenges were dealt with, and the focus was on the "best education" and the "best healthcare".
He said: "People across the country at large ... are responding very positively to the sight of two parties working together for the long-term benefit of the country."
Speaking to the BBC's Andrew Marr Show on Sunday, Mr Hunt, a Conservative MP, said the alleged "Brokeback coalition" description was "a very catchy phrase".
"But there is a very important point about this coalition, which is that before the election people were crying out for a new type of politics," he said.
"They said 'why can't politicians sit around a table and talk to each other?'
"Well if you had been a fly on the wall at our cabinet meeting on Friday at Chequers you would have seen that - people from different parties rolling up their sleeves."