Ministry of Justice to review Jon Venables supervision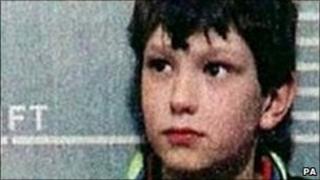 The Ministry of Justice is to review how Jon Venables was supervised after his release from custody in 2001, eight years after he murdered James Bulger.
On Friday, Venables was jailed for two years for downloading and distributing indecent images of children.
Former Home Office permanent secretary Sir David Omand will conduct the probe, which is expected to take three months.
The arrangements for the supervision of Venables, now 27, by probation, police and other agencies will be examined.
Venables was 10 when he and friend Robert Thompson murdered James Bulger in Bootle, Merseyside, in 1993.
Venables was living in Cheshire under a new identity, and working in a job earning the minimum wage, when the images were found on his computer earlier this year.
A probation officer he had invited to his home found Venables trying to delete images from the machine, and to remove its hard drive with a tin opener. The computer was later examined by the police, and 57 indecent images of children were discovered.
It also emerged that a curfew was imposed on Venables after he was arrested for a drunken fight in 2008. Later that year Venables was found in possession of cocaine and was cautioned.
The review will seek to establish if the appropriate action was taken or if he should have been sent back to prison for breaching the terms of his licence - imposed on his release from custody for killing James Bulger.
Diana Fulbrook from the Probation Chiefs Association defended the decision not to return Venables to prison for the alcohol and drug-related crimes.
"Here we had a young man, who'd held down a job for nine years, he was in settled accommodation, some of his presenting behaviour around drugs and alcohol are not uncommon amongst young people - all young people - who are living in society," she said.
Sentence review
Mr Justice Bean, sitting at the Old Bailey, said it would be "wrong" for Venables' sentence to be increased because of his previous crime.
But he stressed Venables would not be automatically freed after serving half of his jail term like any other prisoner, and it would be for the Parole Board to determine when or if he would be released.
Venables was banned from using a computer or the internet for five years and will be placed on the sex offenders register for 10 years upon any eventual release.
Outside court, James's mother Denise Fergus said "justice had not been done".
She was "surprised and concerned" that Venables had not been recalled to prison following those incidents and called for Justice Secretary Ken Clarke to investigate the actions of the probation service.
Lawyers for James Bulger's father, Ralph Bulger, said the authorities should have spotted earlier that there was a risk of Venables committing sexual offences.
They are also expected to ask the Attorney General to review the two-year sentence and refer it to the Court of Appeal.
Robin Makin, the solicitor for Mr Bulger, was also critical of the Probation Service's actions in the case, saying there "must have been totally inadequate supervision and support".
He said giving somebody a false identity, as happened to Venables after he was released in 2001, was a "liberal experiment" that was never really going to work.