Villages could get housing development powers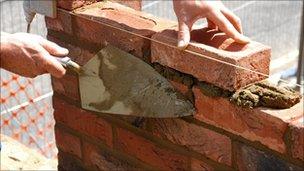 The government plans to enable villages in England to build homes without seeking council planning permission.
The Right to Build initiative aims to provide small numbers of affordable homes in rural areas where high home prices are driving people away.
It is part of David Cameron's "big society" idea of allowing more decisions to be made locally.
But the Campaign to Protect Rural England says building development should be democratically accountable.
BBC UK affairs correspondent Tom Symonds says: "The government believes there are many rural communities eager to see more houses built to stop the countryside, as ministers put it, becoming a museum."
Under the plan villages would be able to form local housing trusts, and hold a referendum to decide if house building should go ahead. A large majority would be needed.
Housing minister Grant Shapps envisages small developments of fewer than 20 homes.
Mr Shapps said: "Loads of people in village communities are saying, 'Our school's closing, our post offices are under threat, we're losing our community facilities.'
"Our problem is that the young people grow up and find they can't afford to live in this village anymore.
"We believe that people have a right to stay in their community and if people want to build that community to make it a bit bigger and expand it a bit, within reason, they should have the powers to do that."
Rod Woodhouse, headteacher at Essendon Primary school in Hertfordshire which is struggling to get enough children for its reception class, said the scheme would benefit villages.
He told BBC News: "There's certainly a sense of frustration with the current local government bureaucracy maybe seemingly putting small issues to the bottom of the pile.
"And if an overwhelming number of local residents want something to happen then to me it seems a good idea that it should."
However, Essendon parish councillor Margaret Titchner said the proposal was a good idea but it could cause friction in close-knit communities.
"I do foresee problems around getting people to agree on what we should be doing," she said.
"I'm not sure how you would elect, if that's the right word, people to be on this trust and whether there would be dissent from those people who were not on the trust."
Crucially, local councils which currently decide planning issues would have little say beyond enforcing modern construction standards.
The Campaign to Protect Rural England has criticised the proposals, which could see building in the green belt.
The campaign group said there should be proper planning scrutiny of house building by democratically-elected councillors rather than a simple public ballot.
Related Internet Links
The BBC is not responsible for the content of external sites.