Gay and lesbian television portrayals criticised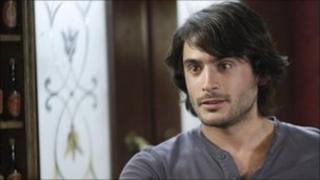 Young people rarely see positive portrayals of lesbian and gay people on television, according to Stonewall.
A survey for the gay equality charity monitored more than 120 hours of programmes watched by the young.
It said gay people were mainly portrayed as promiscuous, predatory, or figures of fun.
Stonewall said homophobic bullying in schools was unsurprising when gay people were so often depicted on TV in a derogatory or demeaning way.
The report, called Unseen on Screen, says ordinary gay people are almost invisible on the 20 programmes most watched by the young.
It says just 46 minutes out of 126 hours' output showed gay people positively and realistically.
Guidelines call
The report also said three-quarters of portrayal was confined to just four Channel 4 and ITV1 programmes, which were I'm a Celebrity, Hollyoaks, Emmerdale and How to Look Good Naked.
BBC One transmitted 44 seconds of positive and realistic portrayal of gay people in more than 39 hours of output, it added.
Stonewall chief executive Ben Summerskill said: "Of course it's welcome that some of the most obnoxious unpleasantness of people such as Jeremy Clarkson is now being edited out before transmission.
"However, it's hardly surprising that there's still almost endemic homophobic bullying in Britain's secondary schools when, even if gay people do appear on TV shows watched by young people, they're depicted in a derogatory or demeaning way.
"It's tragic that in 2010 broadcasters are still underserving young people in this way, particularly when young people themselves say they want to see real gay people's lives on TV."
The report says broadcasters should develop guidelines to ensure more positive portrayals, and share good practice.
The BBC is conducting its own research into how gay and lesbian people are portrayed in its programmes.