Paddy Power blind football ad stays despite complaints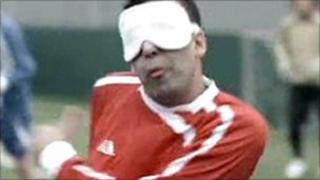 An advert that suggests a cat has been kicked across a football pitch by blind players has not been banned by a watchdog, despite 1,000 complaints.
Viewers said bookmaker Paddy Power's advert was offensive to blind people and could encourage animal cruelty.
The Advertising Standards Authority (ASA) said it was not offensive in itself to create an advert referring to people with a disability.
Paddy Power said it featured an action "so unlikely that it was absurd".
The television advert opens with a shot of a kitbag marked Blind Wanderers FC and two teams of blindfolded men in the middle of a game.
A cat is shown running on to the pitch before a player takes a kick, followed by the sound of a thud and a loud meow.
A man in a suit then appears and tells viewers they "can't get Tiddles back" before going on to promote a way that customers can get their money back on certain bets.
'Surreal and improbable'
Paddy Power said the advert did not show the cat being kicked or suffering any violence or cruelty. It was clearly and deliberately shown to be unharmed at the end of the item.
It also said it had chosen a blind football match to promote a lesser-known sport, as the World Blind Football Championships are to take place in 2010.
The company provided a letter from the manager of the England Blind Football Team, who supported the advert's concept. He also stated all the players were actual blind football players, many of whom had represented the national side.
The ASA said: "We considered that the action in the ad would be interpreted by most viewers as a humorous depiction of a fictional situation, with the humour derived from the surreal and improbable circumstances, when an unforeseeable and accidental action occurred.
"We considered it was unlikely to be seen by most viewers as malicious or to imply that blind people were likely to cause harm to animals whilst playing football.
"We therefore concluded that the ad was unlikely to be seen as humiliating, stigmatising or undermining to blind people and was unlikely to cause serious or widespread offence."