Ministry of Defence must stop 'living beyond its means'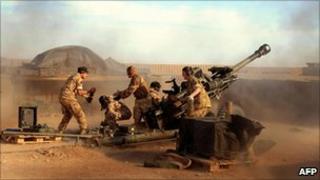 The Ministry of Defence (MoD) must stop "living beyond its means", the National Audit Office (NAO) has said.
The NAO, the independent body that monitors government spending, said the MoD had a tendency to revise up each annual budget as the year progressed.
For example, it said the MoD now expected to exceed its budget for the financial year by £500m, up from its previously forecast deficit of £185m.
Defence Secretary Liam Fox said the MoD was now looking at cutting spending.
This is taking place under the continuing Strategic Defence and Security Review, which is due to be published later this year.
"Over the coming months, the MoD will embark on a radical programme of reform to re-organise the structure of the department," said Dr Fox.
"Among other things, the intent is to ensure that the MoD financial management arrangements are effective."
On Tuesday, Dr Fox said Britain's shopping list for military equipment was "entirely unaffordable".
The NAO report added that the MoD's spending over-commitments led to it having to renegotiate and delay contracts, which was "destabilising" and "leads to significant increases in costs".
It added that while high levels of inflation in the defence sector could be partly blamed, the MoD had to take most of the responsibility for over-spending.
'Financially incontinent'
NAO auditor general Amyas Morse said the MoD's current review would give it an opportunity "to balance its books in the short term".
"The greater challenge will be to keep spending plans affordable in the longer term," he added.
"The department is not at present placing enough emphasis on financial management to be able to do this."
Conservative MP Richard Bacon, a member of the Commons Public Accounts Committee, said the MoD was "financially incontinent".
"There are very difficult and painful choices ahead and the MoD's fancy financial footwork has long ceased to impress," he said.
"The Ministry of Defence needs to face reality and stop living beyond its means."