Past meets future in Battle of Britain village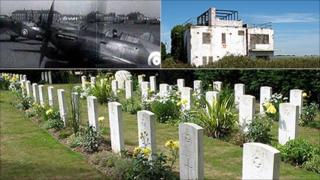 Tangmere in West Sussex, one of the country villages made famous forever by the Battle of Britain, seems quiet today.
Its 1940s control tower looks out over summer fields of wheat and maize in the countryside east of Chichester where, in that other summer 70 years ago, Tangmere's RAF Hurricane fighters were in the front line.
Alongside the former runways, huge high-tech glasshouses stretch - 63 acres of them, where thousands of peppers ripen silently for Britain's supermarkets.
But in 1940 Tangmere was "right in the thick of the fighting," says Dudley Hooley, education officer at the village's military aviation museum, which attracts over 35,000 visitors a year.
Its Hurricanes were in action throughout the struggle for air supremacy meant to pave the way for the invasion of Britain.
And on 16 August 1940, when the Luftwaffe was starting to mount massive raids on the main fighter stations, Tangmere suffered a tremendous dive-bomber attack.
Two hangars were destroyed, the other three and 16 aircraft badly damaged, workshops, sick bay and officers' mess wrecked and the water supply put out of action.
Twenty service personnel were killed - as the churchyard bears witness.
Dozens of RAF graves and a few German ones commemorate the struggles of the summer of 1940; a large group of the graves are of ground crew who died on 16 August.
Among civilians who died on the base, says Mr Hooley, was an ice-cream seller thought to have been the victim of a direct hit because he and his barrow were never seen again.
In the middle of the attack, Pilot Officer Billy Fiske crash-landed his damaged Hurricane on the bomb-cratered runway. This pre-war winter Olympics hero was one of the very first Americans to die fighting for the Allies.
Joyce Warren, who was at her grandmother's house by the airfield that day, remembers seeing the planes dogfighting high above and the Stukas screaming down on the base.
"One minute it's a perfectly peaceful day, and the next minute you've got this all going on," says Mrs Warren, who is one of the volunteer staff at the museum.
"It happened in the middle of the day about lunch time... We had an earth dug-out at that time that my dad had built; my grandmother and I went into that.
"I probably was frightened but I think my grandmother was more frightened than I was because she realised the implications."
Mr Hooley says 16 August was "quite an amazing day," adding: "Lots of the station buildings were absolutely decimated and some very large holes put in the landing areas. But within 24 hours Tangmere was back up and running again."
He admires the courage and accuracy of the Stuka dive bomber crews but says they were "very, very easy meat" for the Hurricanes.
Some Battle of Britain experts consider the heavy German losses in the mid-August raids a key turning point, as the Stukas had to be withdrawn from operations over England.
This was Tangmere's achievement 70 years ago, and its consciousness of its historic role is real, and growing, according to parish councillor John Perry.
"People's main interest may be their job, their television, what they do about the garden - but they carry the Battle of Britain about with them," he suggests.
The annual commemoration service is better attended each year, says Mr Perry, and interest in anniversary events is strong.
Gerard Vonk, manager of Tangmere Airfield Nurseries' pepper-growing operation, says the firm has seen the state of the site improved greatly during its 22 years there - with its concrete apron and runways no longer a paradise for joyriders and vandals.
"It was in the beginning rather a dilapidated area and everybody had a good time on Saturday and Sunday driving their cars and smashing things up. Now it looks much tidier," he says.
The 30 or so airfields that were at the heart of the Battle of Britain have had varying careers in the years since. Few have entirely disappeared.
Some are still RAF stations (such as Northolt); quite a number are specialist airports (Biggin Hill, Manston) or private airfields (such as North Weald). Three contain prisons (Ford, Eastchurch, Coltishall). Several are now used by the three armed services for other purposes.
Heritage questions
Westhampnett (Tangmere's satellite airfield) is the Goodwood racing circuit. Kenley - said to be the best preserved Battle of Britain site - is used for training cadets in glider flying.
Questions remain of how much more can or need be done to preserve the physical remains of Tangmere's heritage.
The 1940 events were part of a history as an air base stretching from 1917 to 1970, which also included its use for the flying of SOE agents to occupied France; for a wing of three Spitfire squadrons commanded by Douglas Bader; and for post-war air speed record successes.
Hardly any buildings survive from the Battle of Britain. A former officers' barrack block was saved by campaigners from demolition by developers and listed. It is now scheduled for conversion into flats.
The armoury and fire department area which were in "immaculate condition" were lost despite a campaign to save them, says James Liskutin of the RAF Historic Association.
"As far as the battle for Tangmere is concerned it's not over yet," says Mr Liskutin.
"The control tower and the last remaining emergency services building - if those were established as a tourist centre or as something related to the museum, that would be a victory, because they could use that as an information centre for Tangmere."
The control tower - an icon for any airfield - is at the centre of some arguments about the future of Tangmere's heritage. True, it is not of Battle of Britain vintage, but it dates from soon after and replaced an earlier wooden one, possibly on the same spot.
"I think it's a shame" that the tower is unused, says Gerard Vonk.
But the tower remains derelict and sad - and haunted, perhaps by the ghost of the American hero Billy Fiske, some people say. There are stories of ghosts at the Tangmere museum, too.