Defence Secretary Liam Fox warns on spending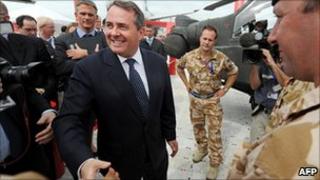 Britain's shopping list for military equipment is "entirely unaffordable", Defence Secretary, Liam Fox has said.
Speaking at the Farnborough Air Show he said the defence industry must cut costs, or the government would have to cut procurement projects.
Britain is the second biggest defence exporter after the US - a position the industry seeks to maintain.
But there are fears cuts to government orders could lead to job losses in an industry which employs 300,000 people.
Farnborough is a chance for the civil and defence aviation industries to show off their wares and latest technological developments and push sales.
Speaking as he met military and industry figures, Dr Fox said: "If they help us in the short term with some of those costs, we can perhaps help them in terms of future projects.
"But I was also very clear - if they don't cut costs, we will have to cut projects."
He stressed his commitment to the armed forces' capabilities on land, air and sea and said Britain needed to retain the scope to intervene abroad.
"The wider risks to our interests and way of life, whether from terrorists, failed states, conflict between other states, nuclear proliferation, climate change and competition for resources are growing," he said.
But he added: "The current defence programme is entirely unaffordable - especially if we try to do what we need to do in the future while simultaneously doing everything that we've done in the past."
One of the projects that could suffer cuts is the Airbus A400M military plane. It is three years late, at least 5bn euros over budget and the government is reviewing its cost.
Peter Scoffham of Airbus Military told the BBC: "Obviously we want to maintain the numbers we've agreed but it's the MoD's (Ministry of Defence's) right to look at all their programmes. We feel this aircraft produces fabulous value and is tremendously cost effective.
The MoD is looking at cuts to its budget of between 10 and 20 per cent. At the same time a strategic defence review is under way to decide which projects survive and which are axed.
Results of the review are expected to be announced in the autumn.