Newspaper review: 'Big society' under microscope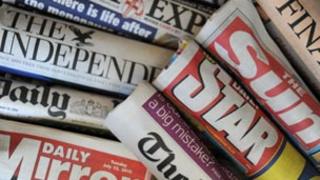 David Cameron's flagship policy, the "big society", is put under the microscope in several papers.
The Independent wonders whether it is a genuine vision for Britain's future, or just empty rhetoric.
The Times is a fan. In its editorial, it describes the policy as a serious idea obscured by a childlike name.
Brian Reade, of the Daily Mirror, is one who will take some convincing. For him, it is an attempt to redefine voluntary work as deeply thought-out philosophy.
Drug use
The Daily Telegraph and Independent report on a call by one of the country's most senior lawyers for the decriminalisation of personal drug use.
Nicholas Green, the chairman of the Bar Council for England and Wales, argues that making the change would save billions of pounds and would not result in greater drug usage.
The Telegraph says campaigners have rounded on the remarks.
They accuse Mr Green of sending the wrong message on drug use, it says.
Veil ban
The Daily Star leads with the decision by Syria to ban the burka on the grounds that it encourages Islamic extremism.
The paper taunts the UK government for dismissing calls for a ban.
The Times says the restriction will apply specifically at universities, and has been imposed to reinforce Syria's secular status.
Similar moves in Europe have sparked cries of discrimination against Muslims, reports the Guardian.
Cleaning agents
The lead in the Daily Mail is a claim that councils are secretly analysing the contents of people's dustbins.
It says authorities are using the information gathered to place households into social categories, like "wealthy achievers" and "hard-pressed", in order to target them in future leafleting campaigns.
The Daily Express leads with a warning from US scientists that some household cleaning agents can increase the likelihood of developing breast cancer.
But the paper says cancer experts in the UK have called for more research.