Police spending cuts 'could hamper fight against crime'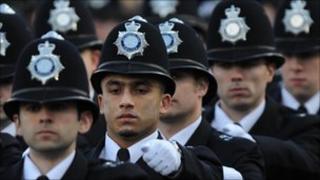 Big cuts to police budgets could harm the ability of forces in England and Wales to combat crime, the Chief Inspector of Constabulary has said.
Like other government departments, the Home Office - which funds the police - could be facing cuts of about 25%.
The Chief Inspector said a "total redesign" of how officers work - such as shift patterns - could save 12%.
But he warned further cuts would hit police availability "unless it was prioritised over everything else".
The analysis of the future of policing comes in a joint report from the Chief Inspector, Sir Denis O'Connor, the Audit Commission - which covers England - and the Wales Audit Office.
'Total redesign'
Police spending reached £13.7bn in the last financial year - almost 50% higher than it was when Tony Blair became prime minister in 1997.
Officer numbers are also at their highest ever, but the proportion directly involved in beat work has fallen by 1,500 in the last four years, while the number in niche or specialist policing units - such as terrorism or child abuse - has increased
Sir Denis said £1bn could be saved by changing the way forces and individual officers work. These include:
Changing shift patterns - fior example, more officers currently work on a Monday morning than on a Friday evening, despite weekend nights being the peak periods for violence.
More collaboration between forces - Bedfordshire and Hertfordshire now share a Major Crimes Unit, saving £3.3m - and merging functions like Human Resources (HR) could produce more savings
Better use of civilian staff - currently, 200 trained police officers work in HR departments - and changing the workforce could save £240m
Cost savings - better procurement, of vehicles for example, could save £100m, and back office costs could be cut by £140m
Fewer managers - cutting the number of chief superintendents could save £20mhe Chief Inspector said that while cuts of 12% "won't be easy to find", they could be made - although about a third of forces are "ill-prepared to" do so.
"We are today challenging the police, managers and politicians who make strategic decisions about the future of policing in England and Wales, to use our reports to examine their choices thoroughly so that the public's safety and well-being are not put at risk," he said.
At present, only about one in 10 police and community support officers are visible to the public at any time, and that will fall further without careful planning, he added.
Chief Constable Grahame Maxwell, of the Association of Chief Police Officers (Acpo), said £1bn "would only be achievable by significant re-engineering and would require major political will to deliver".
"Some of things we're looking at regionally are, how to do we provide some of our big operational units - the firearms teams, the road traffic teams, some of the big CID teams - and what do we do nationally, things that we buy, what's our procurement like?" he told the BBC.
He said a lot of forces had already undergone "workforce modernisation - actually looking at every single job we've got and determining... do you need a police officer to do that job", but more would need to do that in future.
"It means I've got to think very different about how I police and how I spend every pound. I think it's an opportunistic time for us to actually maximise what we can do now... and certainly my chief constable colleagues are very much up for the opportunities and the challenges that this presents for us."
Chairman of the Audit Commission Michael O'Higgins agreed that changes could be made: "200 trained police officers, not support staff, not civilians, work in HR departments, at desks where they never see the public. Why? You could use civilians to do that.
"A community support officer costs less than a fully trained police officer. Can we use them more effectively? How do you get the mix right? For example, taking a witness statement doesn't necessarily need a trained police officer to do it."
Paul McKeever, chairman of the Police Federation of England and Wales - which represents rank-and-file officers - said: "In the current fiscal climate, economies need to be made, but everything must be done to protect frontline services which ensure the public gets the service the public wants - more police officers on their streets."
Last week, a former chief constable and expert on police finance predicted in Police Review magazine that 60,000 police officer and civilian posts could be axed by 2015 - a figure dismissed as speculative by ministers.