Trauma faced by crime victims' families
By Claire Heald
BBC News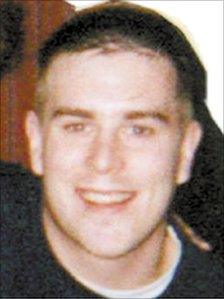 As the government's commissioner for victims and witnesses of crime says the system treats them as an "afterthought", one mother tells how her family struggled after her son was fatally stabbed.
For Ann Oakes-Odger, it was not just the lack of legal help for her family after her son Westley was murdered that caused the stress.
Nor was it the way she overheard while on the phone to the hospital that he had died, after being stabbed in the neck while standing at a cash machine in Colchester, Essex, in September 2005.
Nor the almost three weeks she spent in court in Chelmsford, listening to every detail of his two killers' defence and the account of the last moments of her 27-year-old son's life.
It was not so much the positive character references for his killers from custody officers read out in court, while she sat as "an observer on the sideline", unable to speak up for her middle child.
Nor the three-and-a-half years after Westley's death that the family fought to secure criminal injury compensation, assessed and awarded on a points-based system.
What stands front and centre in her account of the problems she faced - along with Westley's father, older brother, and younger sister - in coming to terms with their loss and the machinations of the legal system prosecuting his killers, is the three months they were forced to wait to bury him.
Two brothers were convicted in 2006 of the manslaughter and murder of Westley Odger.
Because there was more than one perpetrator of the crime, after his death, the defendants' legal teams were entitled to request second and subsequent post-mortem examinations on her son's body.
"Straight away your child has become a body of evidence and you have no rights at all," says Ann.
"You have absolutely no control. We had a funeral three months after Westley's murder, held up as there was a second post-mortem."
"I phoned the coroner's officer every day after the second post-mortem, and kept being told 'we haven't got permission from the solicitors'.
"It is an abuse of the family's human rights. We were lucky in as much as there could have been another post-mortem - I know of families where there are four.
"Their child's body is frozen, defrosted and cut about, refrozen, and that's very traumatic.
"In the case of someone who's stabbed in the carotid artery as my son was, it's often a deliberate legal ploy to delay things. It doesn't happen in Northern Ireland and (the law) must change for the families here."
Westley, who worked as a trained plastics fabricator, was stabbed in the neck at about 3pm and died the same day.
When Ann called the hospital to find out how he was, she could hear the doctors talking in the background "and they passed me to a chap who advised me he had died".
"That was only the beginning."
She describes the state of "limbo and shock" that afflicted her whole family. How her hair fell out in bunches, toenails came off, an episode of collapse. The health problems experienced by her mother and Westley's siblings, Lee, now 40, and Rachael, 29.
"The shock of losing someone from violence is unlike normal grief. It never moves from your thoughts, it's stored away in your brain," she says.
At the same time they struggled to cope with the psychological fallout, there was also the investigation and court case.
In a report unveiled on Tuesday, the government's commissioner for victims and witnesses of crime, Louise Casey, said her charges were a "poor relation" in the criminal justice system - where money was spent, services focused and how justice was pursued.
Her findings follow a 2009 report by Sara Payne, mother of the murdered schoolgirl Sarah, which said victims were badly served.
Ann is clear on where service is lacking.
She argues offenders reap the fruits of 100 years of penal reform while victims bear the brunt of a haphazard system.
Families need to be offered free legal advice from the start, she says, to understand procedures, to know their rights, to understand sentencing and any appeals.
She is full of praise for the family liaison officer on their case but says victim's families need an advocate.
"Family liaison officers do an excellent job and they're very compassionate, but they're not there for you, they're an information gatherer.
"Ours did their best to keep us in the loop, but the criminal justice system leaves us outside, looking in, like looking in at people round a nice warm fire.
"The grief is exacerbated by that. You feel like someone has driven an HGV into your mouth and you're forced to swallow it."
Families also need counselling and stress support when they may not be able to fulfil their normal functions of working, caring for children, paying the bills, she says.
They need help in court, and there should be changes to court arrangements - no thousands of pounds charges for court transcripts while defendants have access to court papers; no character references from the custody officers she feels should be impartial.
Since her son's death, Ann was part of a successful campaign to amend the Criminal Justice Act to create a new starting sentence, normally of 25 years, for courts considering the minimum term for murderers who used a knife.
But she says the changes needed go as far through the system as making trainee lawyers study victims.
Meanwhile the commissioner's appointment, and her report on Tuesday, are at least one "immense step to look at the failings of the system".
Related Internet Links
The BBC is not responsible for the content of external sites.