Civil Aviation Authority helping Goldtrail travellers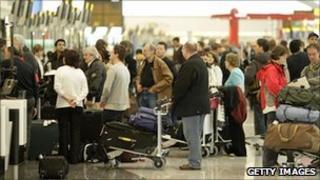 The Civil Aviation Authority says it is doing all it can to fly people home after travel firm Goldtrail collapsed.
The Greece and Turkey holiday specialist, based in south London, went into administration on Friday, affecting as many as 50,000 people.
The UK's air industry regulator said it was making plans to repatriate those currently abroad, and those due to travel later should apply for refunds.
Goldtrail customers can call the CAA on 0203 4410846 for information.
About 16,000 Goldtrail customers were overseas when the firm went into administration on Friday afternoon, while a further 2,000 were scheduled to fly from the UK over the weekend.
The CAA said all flights back to the UK from Turkey and Greece would operate as scheduled up to and including Monday. Information on flights from Tuesday will appear on its website later.
Those due to fly with the failed operator are being advised not to go to the airport and contact their travel agent instead.
The CAA said holidaymakers could claim back money lost on bookings, and also any out-of-pocket expenses, but it would probably take several months for those claims to be processed.
Jonathan Nicholson from the CAA said: "Everybody should be satisfied that we are ensuring that they will be able to have their holiday and they will be come back, if not exactly on the same flight, very close to the time and day they were due to come back."
Hotel demands
But one traveller, Suzanne Bithell, told the BBC she and her boyfriend had had to run away from their hotel in Turkey after their holiday rep demanded they pay again for their accommodation.
"I told him: 'We already have paid! We paid before we came!' But he said: 'No. The hotel did not get that money - Goldtrail has gone bust. You have to pay the hotel. Give me your credit card details. You can always claim it back later on insurance.' The atmosphere was getting very tense.
"We basically had to do a runner or we would have missed our flight home."
Other customers say they have been forced to pay twice. Lorraine Davies told the BBC the manager of her hotel in Turkey would not let her leave until she agreed to do so.
"He had my passport and he warned me he would keep it in the safe until I paid up. I looked around for help but my holiday rep had vanished.
"[So] I paid the hotel. I didn't know what else to do."
Mr Nicholson told the BBC there was "always the issue with hotels, unfortunately, where the hotelier is unsure whether they're going to be paid or not", but travellers should not have to pay again.
"If they are asked to do so, they should call the CAA's helpline and we will then contact the hotel to sort the matter out," he added.
Refund worries
Gillian Harmer was one of the customers whose trip has been cancelled altogether. She told the BBC: "I've got four-year-old grandsons who've been asking me every day, 'Today nana, today?' and this morning I've had to say to them we're not going. It's probably the worst thing I've ever had to do.
"Everybody just says book more flights. If I had money to book more flights that would be great, I'm just not in a position to do that."
Simon Calder, travel editor of the Independent, said claiming money back was a "very long, complicated and drawn-out business", and criticised the CAA's handling of this and other travel company collapses.
"First of all, how could they allow a company which was on the brink of insolvency to be selling flights right up until the last minute? Were they really paying enough attention to the finances of this company?
"And secondly, why is it taking so long to refund claims? I've had a couple of people talking to me about XL Leisure Group [which] went bust two years ago. They are still waiting for refunds."
Goldtrail is the 11th holiday firm to collapse this year, according to the CAA, and there had been rumours for several months that it was not doing well.
BBC business correspondent Joe Lynam said experts said Goldtrail's case "does not reflect the wider health of the sector".