Child prison secret restraint tactics 'revealed'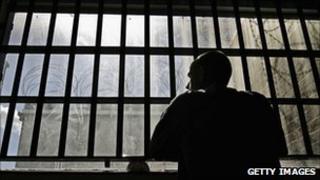 Details of techniques described in a manual governing physical restraint in private child prisons have emerged.
Measures outlined in a previously secret document include ramming knuckles into ribs and raking shoes down the shins, the Observer reported.
The details were revealed after the Youth Justice Board (YJB) agreed to hand over the document after a five-year freedom of information campaign.
The Ministry of Justice said the tactics were used "very infrequently".
Some of the restraint and self-defence techniques detailed in the Observer include placing an "inverted knuckle into the trainee's sternum (breast bone) and drive inward and upward".
Another authorised measure is outlined in a description which reads: "Continue to carry alternate elbow strikes to the young person's ribs until a release is achieved."
The newspaper says the manual - Physical Control in Care - was published by the HM Prison Service in 2005 for staff working in secure training centres, run by private firms under government contracts.
'Institutionalised child abuse'
According to Children's Rights Alliance for England (CRAE) officials, the YJB initially appealed against an order by the information commissioner in December 2009 that the document be given to them.
It has called for the justice secretary to order an independent judicial inquiry to examine the regimes of private child prisons dating back to 1998.
Carolyne Willow, of CRAE, told the Observer the manual was "deeply disturbing and stands as a state authorisation of institutionalised child abuse".
A Ministry of Justice spokeswoman told the paper: "For young people under 18, the use of restraint is a last resort.
"But where young people's behaviour puts themselves or others at serious risk, staff need to be able to intervene effectively, to protect the safety of all involved."