Raoul Moat ex-partner Samantha Stobbart tells of attack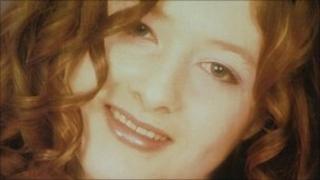 The ex-girlfriend of Raoul Moat says she hopes he "rots in hell" after he left her critically injured and shot dead her new partner Chris Brown.
Samantha Stobbart, 22, told the News of the World how a "happy" night ended in her "fighting for life on the floor".
Doctors told her she "would have died" if her arm had not blocked the shot, she added.
Moat also shot Pc David Rathband in the face and evaded Northumbria Police for a week before shooting himself.
'Massive firework'
Miss Stobbart, who was interviewed in her hospital bed, told how she and karate instructor Mr Brown were leaving a friend's house in the early hours of the morning when Moat struck.
She broke down in tears as she recalled how Mr Brown kissed her just before they stepped outside.
"We got out the gate," she said. "Raoul jumped out from under the window. Actually, I shouted at Chris, 'That's Raoul'.
"That's obviously when he shot Chris.
"It was as if a massive firework had exploded in front of me."
She added: "I've seen him in a rage before but this was something different. There was nothing behind his eyes."
Miss Stobbart said she ran back into the house after Mr Brown was shot because she was scared for the safety of her three-year-old daughter who was inside.
When she reached the living room, Moat fired through the window hitting her in the stomach.
Lifting her clothing to reveal the wounds, she said: "Raoul just fired and left me fighting for life on the floor. I hope he rots in hell."
She told the paper that her life had been saved by chance.
"Somehow my arm ended up in front of me as a block, and the doctors have turned round to me and said if my arm wasn't there, then I would have died," she added.
"It's actually the arm that saved it because it took all the pressure and force from hitting my organs, really."
'No mocking'
Miss Stobbart admitted lying to Moat by telling him her new boyfriend was a policeman, but she told the paper he was fully aware of the truth - that Mr Brown was, in fact, a karate instructor - at the time of the shooting.
She also claimed Moat had been violent towards her during the relationship, and despite their relationship being over a year previously, he was "still trying to control me".
She said she and Mr Brown had been having "a really good time" at the house before the shooting, and denied claims made by Moat that they had been mocking him.
"Obviously, we had forgotten about Raoul by then," she told the paper, insisting his name was never mentioned.
After being pursued by police, Moat was involved in a six-hour stand-off with armed officers, which ended when the former nightclub doorman apparently shot himself in the early hours of last Saturday.
A total of 15 people have been arrested during the Moat inquiry. Two have been charged with conspiracy to murder and have been remanded in custody.
Eight people in total have been released on bail.
A Facebook group, RIP Raoul Moat You Legend, which attracted 35,000 members, was removed after it came under fire from Prime Minister David Cameron.
Publicist Max Clifford, who represents Miss Stobbart, told the BBC she could not understand the support that had been expressed for the gunman.
"It's not something I've discussed with her at any length, but I think she's just shocked and astonished that people could find him to be a hero.
"She's gone through the most horrendous experience so she's being very carefully protected and cushioned, if you like, against some of the things people are saying out there. Fortunately they're a tiny minority."