Goldtrail collapse leaves Britons in Greece and Turkey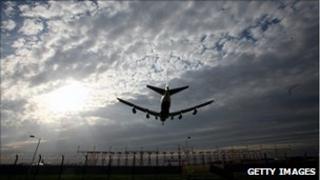 A British tour operator has collapsed leaving thousands of holidaymakers abroad, the Civil Aviation Authority (CAA) has said.
Greece and Turkey specialist Goldtrail, based in New Malden, south-west London, went into administration on Friday with an estimated 16,000 customers overseas.
The CAA said it was arranging to fly customers home after their holidays and there were no more outbound flights.
Goldtrail customers can call the CAA on 0203 4410846 for information.
Though the company went into administration on Friday afternoon, some of Goldtrail's customers were not told until they were due to board their flights on Friday evening.
Mark McLay arrived at Glasgow airport for a 2045 BST flight but was not told of the company's demise until the early hours of Saturday, long after he and his girlfriend had already checked in for his plane to Bodrum in Turkey.
"At 0100 BST we were called together and told over the Tannoy that Goldtrail had gone into administation, that we would not be flying and that we would be escorted out of the building," he said.
"One woman was crying and it was bad for the families although everyone took it as well as could be expected."
The CAA said flights home from Turkey would operate as normal but holidaymakers in Greece were warned to expect changes.
Those in Greece are advised to check with representatives at local airports. The company used charter airlines such as Onur Air, Turkuaz and Viking.
It is thought that as many as 50,000 holidaymakers who have booked flights over the summer will be affected by the company's collapse.
One traveller, Martin Plimmer, said he had booked his flights through Goldtrail and faced losing all the money spent on his accommodation if he couldn't find the finances to pay for new flights.
"We were told we would have to pay for any new flights and claim that back through the CAA as Goldtrail were ATOL-protected.
"Our predicament was however that if we couldn't afford the flights we would lose the £1500 that we paid for our all-inclusive hotel because it was through a different company."
Another customer, Cassie Inns, from Surrey, was hoping to fly to Turkey on Monday, and said the situation was "a nightmare".
Manchester Airport has said it is expecting about 800 passengers booked with Goldtrail to pass through the airport on Saturday and a further 800 on Sunday.
'Join queue'
Simon Calder, Travel Editor of the Independent, said: "There will be people waking up, hearing the news that Goldtrail has gone bust, thinking 'well, what's going to happen to my holiday?'
"I'm extremely sorry, it will not be going ahead, those flights will not be operating, you are going to have to join the queue to get your money back from the Civil Aviation Authority."
There had been rumours for several months that Goldtrail was not doing well. The CAA had informally predicted that smaller tour operators could find it hard to survive.
On several travel review websites, feedback comments in recent weeks had been very critical. One comment described the experience of travelling to Turkey with Goldtrail as a "holiday from hell".
Another posted in June stated in capital letters, "Do not book with this company".
Last year, the company featured in a BBC Watchdog consumer affairs programme.
A number of former customers had received sub-standard accomodation and treatment on holiday in Turkey. Other holidaymakers, it discovered, had become ill after taking Goldtrail holidays.
The company was also fined thousands of pounds by the Association of British Travel Agents, ABTA, the programme reported.
The CAA advised customers due to fly with the failed operator to check with their travel agent before travelling to the airport.
In a statement issued on its website, the aviation regulator said: "The CAA has taken steps to protect customers booked with Goldtrail Travel Limited after the company ceased trading.
"The CAA, under its ATOL (Air Travel Organiser's Licensing) scheme, is making arrangements for customers abroad to travel home at the end of their holidays."
Sean Tipton, from the ABTA said customers should not have too wait too long for refunds: "To be fair to the CAA who're dealing with these claims - they will try and refund people as quickly as possible.
"There were issues last year with a company called XL, which was quite a large company, took a long time to deal with.
"But this one is a lot smaller so in our view, you know, claims should be processed fairly quickly."