Violence against women 'should end', says Theresa May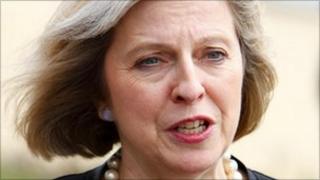 The home secretary has said the coalition government aims to "end violence against women and girls".
Theresa May - also minister for women - pledged more funding for an existing pilot scheme that helps immigrants who are victims of domestic violence.
Ms May told a Women's Aid conference she would also look into using fines criminals pay towards victims' services to open more rape crisis centres.
They would also devise "real solutions" for preventing violence, she added.
The annual conference, organised by Women's Aid, included delegates mainly from the charity's membership of more than 370 regional domestic and sexual violence services.
Following the speech Women's Aid chief executive Nicola Harwin said they were looking forward to working with the government.
"[We want] to ensure that these lifesaving domestic and sexual violence services are protected and delivered by appropriate trained professionals in quality specialist services, to ensure the best protection and support for vulnerable women and children," she said.
In her first speech on the issue Ms May said violence against women would be a priority for the government, but added that she was under "no illusion" about it being an easy task.
"This will take time and effort. In these tough economic times, while government has a clear role to play, it's vital that we all work together and with a more considered, targeted and sensible approach I believe we will achieve real results."
She pledged to continue funding, until April 2011, a pilot scheme which helps victims of domestic violence who cannot access public funds because they are living in the UK on a spouse or partner visa.
The pilot project, run by Eaves Housing for Women Ltd, started last November under the previous government and had been scheduled to run to the end of August 2010.
Ms May said a long-term solution would be found after the funding comes to an end.
Surcharge for victims
She also said she would reverse the decline in rape crisis centres by considering how to use the proceeds from the victim surcharge scheme to provide up to 15 new facilities.
Existing centres would also get stable, long-term funding, she said.
The victims' surcharge raises money from offenders whose sentence involves a fine.
Each must pay a mandatory flat-rate victim surcharge of £15, regardless of the size of the fine.
The government would also respond in full to Baroness Stern's independent review into the handling of rape complaints, she said.
Ms May told the conference: "As both home secretary and minister for women and equalities I believe I have a unique opportunity to bring about real change to the lives and the status of women in this country, and my ambition is nothing less than ending violence against women and girls."
Next week the Home Office is to host a cross-government ministerial violence against women meeting to discuss a new approach to tackling the issue.
Ms Harwin added that one-in-four women are affected directly by domestic violence at some point.