Northern Rock's charges policy angers mortgage brokers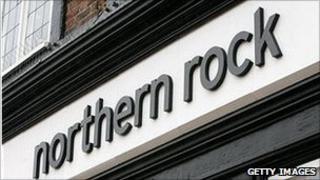 The state-owned bank Northern Rock Asset Management has been accused of treating its customers unfairly by mortgage advisers.
In January 2010 hundreds of thousands of Northern Rock customers lost the ability to switch their mortgage to another provider when Northern Rock Asset Managment took over their account.
The bank agreed to waive, or reduce, early repayment charges for some but not all of its customers up until the end of June.
Northern Rock insist that all customers have been treated fairly.
Charge frustration
Ewen Barrowclough, a mortgage adviser in Selkirk, told Radio 4's Money Box that one of his clients had been quoted an early repayment charge of £1,500 after agreeing a purchase price for a new property.
"The original mortgage terms were fully portable but I've now been advised that the product is not portable, Northern Rock Asset Management can't lend any more money and we can't even transfer to Northern Rock Plc without paying the early repayment charge."
Mr Barrowclough said his client had felt even more frustrated after discovering that some customers early repayment charges had been waived if they had met certain criteria.
A Northern Rock spokesperson would not tell Money Box what criteria needed to be met but said:
"For a limited period and as a gesture to some customers leaving us in order to obtain additional borrowing with an alternative lender or taking a new product with Northern Rock plc, we provided a refund of some or all of the early repayment charge or helped with costs."
The banks discretionary period for offering a refund of charges ended on June 30th.
Fair treatment
In December 2009 Northern Rock split into Northern Rock Plc - the bank part which continues to lend - and Northern Rock Asset Management - which simply holds existing assets but offers no new lending.
The Asset Management division holds a £49.7 billion residential mortgage book and a portfolio of personal unsecured loan accounts valued at £3.9 billion.
In a statement on the companies website chairman Richard Pym wrote:
"Economic conditions remain challenging and have placed increased financial strain on many households, and we remain committed to the fair treatment of all our customers."
Best route
Speaking to Money Box, Mark Hoban, the Financial Secretary to the Treasury, said it was up to Northern Rock to resolve the matter but added:
"There are mechanisms in place to resolve it through the Financial Ombudsman Service and I think that's the best route for people to go."
Bradford and Bingley, which become publicly owned in 2008, has been waiving all early repayment charges since February 1st and say they anticipate the offer continuing indefinitely.
In March 2010 UK Financial Investments announced their intentions to bring Northern Rock Asset Management and Bradford and Bingley together under a single holding company.
BBC Radio 4's Money Box is broadcast on Saturdays at 12 noon, and repeated on Sundays at 2100 GMT.