St Swithin's day rain curse dismissed by forecasters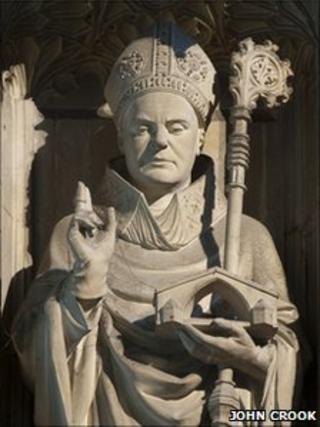 The UK is unlikely to be cursed by rain for 40 days following showers on St Swithin's day on Thursday, forecasters have said.
According to legend, there will be downpours every day for more than a month if it rains on 15 July.
But BBC weather forecaster Matt Taylor said: "There's no meteorological basis for it. It's purely folklore."
He said it would become slightly drier over coming days but there would be no return to recent heatwave conditions.
The Met Office has severe weather warnings for heavy rain across north-west Scotland which will continue until lunchtime on Thursday.
Heavy rain and strong winds will reach the far south-west of England in the afternoon.
'Remains moved'
St Swithin was a 9th Century bishop in the Saxon kingdom of Wessex, whose feast day is on 15 July.
Legend has it that he asked to be buried humbly outside Winchester Cathedral when he died but his remains were dug up in 971 and moved inside the building.
The act was said to have coincided with 40 days and 40 nights of violent storms, indicating his displeasure at being moved.
The Met Office says St Swithin's day folklore is just a myth, but there is evidence that some weather "old wives tales" do have a scientific basis.
For example, "red sky at night, shepherd's delight; red sky in the morning, shepherd's warning" relates to the sun illuminating either clearing or approaching clouds.
Thursday also sees the rededication of the the grave of one of the UK's greatest meteorologists, George James Symons.
Members of the Royal Meteorological Society renovated the site at Kensal Green cemetery in north-west London after it fell into disrepair.
Symons founded the British Rainfall Organisation at the age of 22 and published detailed annual summaries of rainfall over the British Isles for the next 40 years.
Some 110 years later his system is still the basis for observing and recording rainfall in the UK.