Arts and culture bodies in cuts appeal to government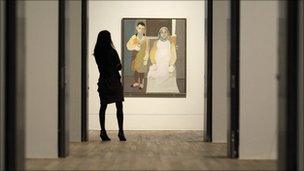 The leaders of the UK's most prominent cultural bodies have appealed directly to the prime minister not to cause "irreparable damage" to the arts.
The coalition government has asked all major arts funding bodies to show how they would manage cuts of 25% or 30%.
But leaders from institutions like the National Theatre and Tate have warned such cuts would be "catastrophic".
Culture minister Ed Vaizey has said everybody has to take their share of cuts.
Representatives from Arts Council England joined leaders from the National Theatre, Tate, Barbican, Natural History Museum, Royal Shakespeare Company, Sadler's Wells, Serpentine Gallery and Southbank Centre to state their case.
They argued that while the cultural sector is willing to play its part in the country's economic recovery, the size of cuts being proposed would be damaging.
The proposal comes on top of 3.5% cuts this year as well as the cultural sector's £322m contribution to the costs of the Olympics, they said.
The cumulative effect of these cuts could, the leaders warned, lead to the closure or partial closure of leading national museums, galleries and theatres.
Arts Council England has estimated that out of around 850 organisations on its portfolio, 200 would go under over a four-year period if cuts of around 30% were made.
Tate director Sir Nicholas Serota said while he recognised the need for cuts, the government's plans go too far.
"I think what you will see across the country is organisations closing, theatres going dark, galleries being closed.
"This sounds very dramatic. But I think at the level of 20 or 30% that is the result that you will see."
Art dealer Anthony d'Offay, businessman Guy Weston and Sir John Ritblat are among a number of prominent philanthropists who have also written to the prime minister, expressing their concern at the cuts.
In the letter, they say the government's hopes that US-style private philanthropy and corporate giving will make up the shortfall is well meaning, but not well tried.
Speaking at Tate Britain, Serpentine Gallery director Julia Peyton-Jones said: "Philanthropists are being asked to step in and cover the shortfall... In my view (this) is simply not realistic."
"Philanthropy is a gift which is given and freely taken away."
RSC executive director Vikki Heywood said there was a "tipping point" for arts organisations.
She said: "We will not be able to juggle this level of cuts as an industry without it affecting the public."
In a joint statement, the organisations hailed the arts as a "great British success story".
"The cultural sector has made a real contribution to the country's social and economic recovery through offering work, learning, training and social engagement. The arts represent the creative future on which Britain's economy depends," they said.
Mr Vaizey said organisations were "absolutely entitled" to make their case to government but "everybody had to share their burden of the cuts that were coming".
"Nobody should be in any doubt at all that we strongly support the work that arts organisations do in this country, but equally they have to be in no doubt at all that we face a very tough financial environment left for us by the last Labour government.
"We're going to work together to make sure that we can continue to deliver first class arts to as many people as possible but we have to work together to make this happen," he said.
The government hopes private money will help plug the gap, but it has emerged some of the country's leading philanthropists are writing to Prime Minister David Cameron warning that such an ambition is overly optimistic.
The appeal comes the day after a warning that the number of theatres at risk of demolition could grow in the next year because of funding cuts.
The Theatres Trust latest "at risk" register highlights 55 buildings facing an uncertain future, with cuts seen as a major area of concern.
Related Internet Links
The BBC is not responsible for the content of external sites.