UK soldiers killed by rogue Afghan named by MoD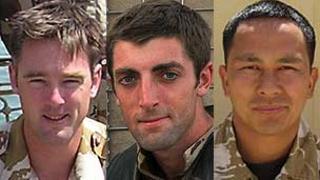 Tributes have been paid to three UK servicemen killed by a rogue Afghan soldier in Helmand province.
Major James Joshua Bowman, from Wiltshire, Lieutenant Neal Turkington, from Craigavon, and Corporal Arjun Purja Pun, from Nepal, served in 1st Battalion The Royal Gurkha Rifles.
The Ministry of Defence released their names as family members and comrades said they were "selfless" and "brave".
A major manhunt is under way following Tuesday's attack in Nahr-e Saraj.
Maj Bowman was shot as he slept, while Lt Turkington and Corporal Pun died when a rocket-propelled grenade was fired into the command centre.
Maj Bowman's family said he had been the "best possible son and brother" who "loved the Army and was very proud of the selfless work that he and his company were doing".
Lt Turkington's family said they were "devastated" by their loss and said the soldier had been "relentless and steadfast in his pursuit of those causes he believed in".
Cpl Pun's wife, Durga, said her husband had been "proud to be a soldier and died doing a job he loved".
Lt Col Gerald Strickland MBE, Commanding Officer 1st Battalion The Royal Gurkha Rifles, said that with Major Bowman's death, the battalion had lost a "brave" and "truly courageous" commander who had led with a "rare determination".
The 34-year-old from Salisbury had joined The Light Infantry in 1999 and served in Northern Ireland and Sierra Leone before joining 1st Battalion The Royal Gurkha Rifles in May 2009.
Lt Col Strickland said Lt Turkington, 26, had been a "courageous and determined platoon commander" who was respected for his "integrity and raw ability".
Lt Col Strickland said Cpl Pun, 33, a father-of-two from Khibang village in Nepal's Magdi District, had been a "true Gurkha... steadfast and loyal", and a man who had "immediately earned the respect of his men".
'Not forgotten'
Earlier, Nato said it was using every "asset" within its power to find the Afghan killer and those who may be assisting him.
Defence Secretary Liam Fox said the "despicable and treacherous" act would "not dent the resolve of the colleagues they leave behind".
He said: "The efforts of 1st Battalion the Royal Gurkha Rifles have directly improved the security situation in the Nahr-e Saraj district; their bold acts have improved the lives of the Afghan people and their mission to partner and train the Afghan National Army is vital to our success.
"I extend my deepest condolences to the families and loved ones of the servicemen killed in this atrocious attack, their sacrifice will not be forgotten."
A Royal Marine was also killed on Tuesday when he was shot dead in a separate incident in Helmand province, taking the number of British personnel killed in Afghanistan since 2001 to 318. He has not yet been named.
On Wednesday, the Ministry of Defence announced that Gen Sir David Richards is to be the next chief of the defence staff, the UK's most senior military officer.
He will replace Air Chief Marshal Sir Jock Stirrup, who is leaving the post later this year.