More than 600,000 people told to isolate by NHS Covid-19 app
By Cristina Criddle
Technology reporter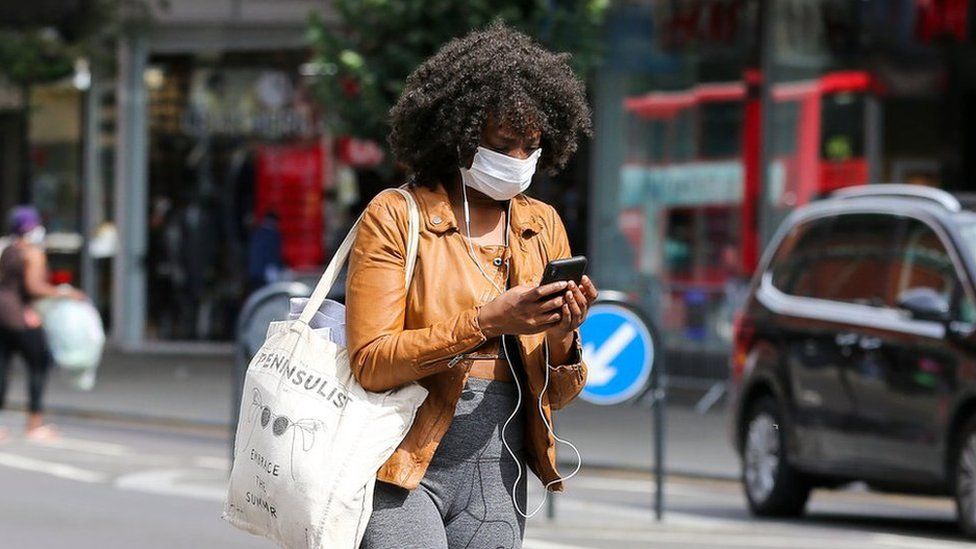 More than 600,000 people using the NHS Covid-19 app in England and Wales were sent self-isolation alerts in the week between 8 and 15 July.
Data shows 618,903 alerts were sent - a 17% rise from the previous week.
There are complaints from businesses that the alerts are causing serious staff shortages and affecting services.
However some fully-vaccinated key workers will be exempt from self-isolating if they are pinged by the app as a close contact of a positive case.
Business secretary Kwasi Kwarteng told the BBC a "very narrow" list of jobs would be released today.
Self-isolation for all fully-vaccinated people pinged by the app as close contacts is due to be scrapped by 16 August, although there are calls for this deadline to be brought forward.
The app alert is advisory only and not enforceable by law, unlike a phone call from the Test and Trace team.
"If you are pinged, you should self-isolate. I know it poses challenges, and we are seeing reports of shortages which we are monitoring, but the rules are clear and I think they should be followed," Mr Kwarteng told the Today Programme on BBC Radio 4.
Latest government figures show there are a further 44,104 daily coronavirus cases in the UK, with 73 coronavirus-related deaths.
Prime Minister Boris Johnson warned cases could rise even more this week, as most legal restrictions have ended in England.
His spokesman said that the app was doing "what it's designed to do".
"We're aware of the impact on some industries and services and working closely with them particularly food and supermarkets….we have a robust and resilient food supply chain."
The Co-op said it was "running low on some products", while Iceland said shops might have to be shut.
However, Iceland urged shoppers not to panic buy, saying it was not necessary.
In England 607,486 alerts were sent to app users in the period between 8 and 15 July, with a further 11,417 sent in Wales.
There were fewer app pings per case in England during this period, with 2.8 pings issued per every reported coronavirus case.
An average of 3.2 pings were sent per case reported in the last month.
Another record then for the number of people pinged by the NHS Covid-19 app and sent into isolation.
For businesses struggling to deal with the impact on their employees this will be more evidence that a different approach is needed. The fact that the number of pings did not rise even more sharply in a week when case numbers were accelerating, may be an indication that some people have deleted the app, although we have to be cautious about extrapolating too much from one week's figures.
Its defenders point out that many of the complaints about the app concern wider health policy rather than the tech itself - the fact that people who may have been in contact with the virus are being told to isolate even if they are fully vaccinated is a policy applying to traditional Test and Trace too, and won't change until August 16th.
One man, who was heavily involved in the design of the app, told me people didn't realise that it worked on a number of levels - "even if someone ignores the message to self-isolate, telling them they have been exposed to the virus is likely to make them behave more cautiously."
He also said that while the anonymous nature of the app meant only limited data could be extracted from it, there was useful and early information for epidemiologists about the spread of the virus and the R rate.
The government still insists the app is doing the job for which it was designed - but there will be mounting pressure from industry for a more rapid change to allow people who are pinged to be tested rather than to isolate.
When the new health secretary Sajid Javid replaced Matt Hancock, there were reports that he wanted the app's sensitivity tweaked so that it sent out fewer alerts. But that appears to be off the agenda for the moment, with the Department of Health insisting there are no immediate plans for any changes.
Downloads of the app continued to rise to 26,826,748 from 26,523,853 the previous week.
The BBC understands there is no way to know if the app has been deleted, but #DeleteTheApp has been trending on Twitter today.
A recent poll by YouGov suggested that one in ten users have deleted the app, having previously installed it.
Those aged between 18 and 24 were most likely to have deleted the app, after installing it, according to the data.
How does the NHS Covid app work?
People in England and Wales can download the NHS Covid app (Northern Ireland and Scotland have their own).
If you are using the app and spend enough time close to another person with it, you will receive a "ping" alert if they later test positive for Covid-19 and share the information with the app. The app uses the Bluetooth signal to determine whether your phone had recently been within 2m of theirs for at least 15 minutes.
If you are "pinged" you're advised - but not legally obliged - to self-isolate for up to 10 days.
In this same week to 14 July, 259,265 people in England tested positive for coronavirus, an increase of 33% from the previous week.
NHS Test and Trace said it was the highest weekly number of people testing positive since January.
The service said it had identified 475,465 people as close contacts of somebody who had a positive coronavirus result, and had been able to contact 94% of them