Covid: Will lockdown change England's new tech habits?
By Zoe Kleinman
Technology reporter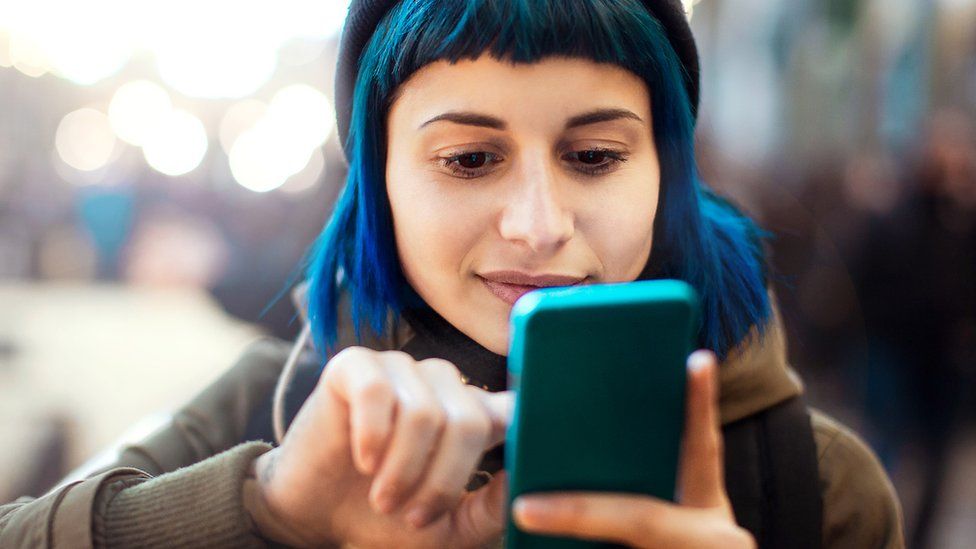 The pandemic has ushered in a new era for tech, from Zooms and pings to e-scooters and online shopping.
Back in April 2020, Microsoft's Brad Smith said two years of digital transformation had taken place in just two months.
So with Covid restrictions easing across England, will any of the innovations stick?
Lisa Forte, from Red Goat Cyber Security, says there has been an "element of desensitisation" as formerly risky online behaviour, like scanning unknown QR codes or clicking on seemingly innocent links in text messages, has become the norm.
This has made people more susceptible to malicious attacks, as Lisa says: "It's been a good year for hackers.
"We're now used to using tech in this haphazard way. We've just had the longest time in history where it has been practically mandated."
Lisa says she was checking in with the NHS Covid-19 app at a south-west England restaurant recently, and noticed the QR code's web address wanted to direct her smartphone to a Russian domain, ending .ru.
She alerted the venue, which had no idea how it had got there and removed it.
"Someone had put that up, maybe for a joke, maybe not - but it was obviously not a genuine site," she said.
"As long as there is uncertainty in an environment, then it's ripe for attack. We've unlocked, but the uncertainty is still there. And so there will still be people exploiting it."
Public transport is here to stay - but now with more apps to enable travellers to better plan their journeys, says Prof Jillian Anable, chair of transport and energy at University of Leeds.
She says despite how it may have appeared, there is no data currently pointing to a boom in individual modes of transport like e-scooters, bikes and cars.
There was an increase in cycling during the first England lockdown. When the weather was good, there was less traffic on the roads and people were bored - but it has not significantly sustained itself so far, according to her data.
"Generally we found that people who worked from home, mostly didn't stop using their cars."
Conversely, 60% of people who used buses throughout the pandemic did so because they had no other choice, she said.
However, as more people look to travel less to work, we may see a bigger shift towards electric cars for smaller, more local journeys, and more households running one car rather than two.
"On average, at least half of travel is for leisure and shopping. In the short term there will probably be more day trips, and staycations, so it is a possibility that the total mileage we do may increase in the next year or two," she adds.
Analyst George Jijiashvili, from the firm Omdia, says the pandemic-induced video gaming craze is unlikely to be sustained - but it's definitely not game-over for the industry as people gain more leisure time options.
"There will be an initial decline in growth but overall we think the games market will continue to grow, because through this pandemic period a lot of people who got into gaming will continue to enjoy it as a pastime," he said.
George also predicts that there will be increased demand for handheld games consoles like the Nintendo Switch and the recently-announced Steam Deck from Valve, with commuters wanting to play on their journeys, as more return to workplaces. E-sports fans will be keen to return to stadium-based events once they are back on.
He also thinks the return of physical events like E3 and Gamescom will give the industry a shot in the arm.
"This year's E3 was mediocre," he says,
"One of the many things holding back announcements was the lack of an in-person event. They are vital for smaller developers in particular - they use them to find new partners and publishers."
Ben Wood, chief analyst at CCS insight, thinks the so-called Zoom boom - the era of video calls - is here to stay.
"For many people, the shift to video communications is now permanent," he says.
"What would have been a phone call is now likely to be a video call and I expect to see this form of communication being used far more widely when people are out and about, not just stuck at home or in a fixed location."
Ben also thinks a combination of physical and digital meetings will become the new normal.
He is, however, concerned that the current "pingdemic" - people getting "pinged" by the NHS Covid-19 app because of close contact with a positive case, may make them more wary about using their handsets.
"It could reignite the debate about much information mobile phones are able to capture about our daily lives," he said.