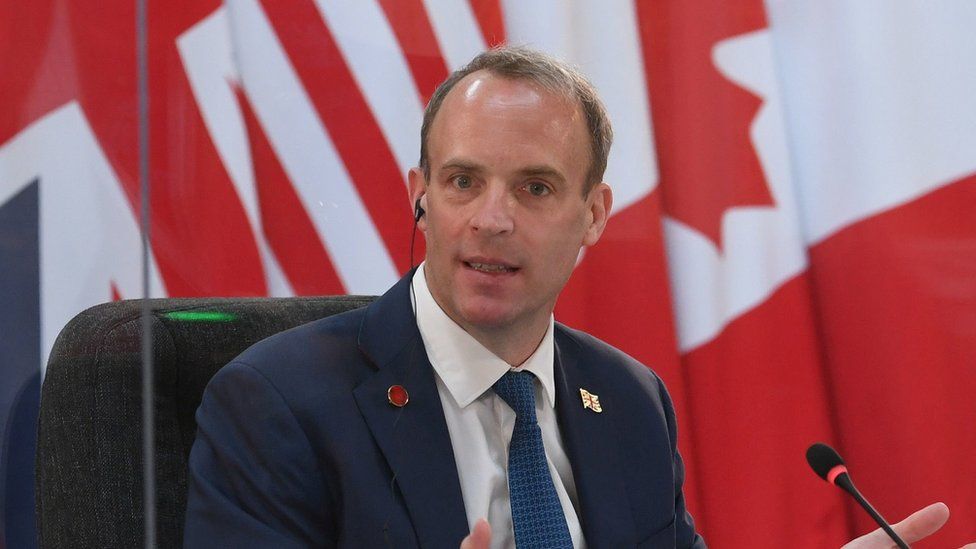 The foreign secretary Dominic Raab has issued a warning to Russia about sheltering those behind ransomware attacks.
Russia "can't just wave their hands and say it's nothing to do with them", he said.
"Even if it is not directly linked to the state they have a responsibility to prosecute those gangs and individuals."
Ransomware attacks delayed a return to the classroom in March at 80 schools and universities, he also revealed.
Mr Raab's remarks came as part of a keynote speech at the National Cyber Security Centre's (NCSC) CYBERUK conference on Wednesday - his first major speech on cyber-security issues.
Hostile state actors and criminal gangs want to undermine the foundations of society and democracy, he said.
There is a clash between authoritarian and democratic states playing out in cyber-space at the moment, he added, with malicious cyber-actors the "industrial-scale vandals of the 21st century".
He warned that cyber-attacks pose a real risk on a daily basis, with states using digital technology to sabotage and steal.
But criminal ransomware - in which people's data is held hostage until a payment is made - has also been of growing concern. A spate of ransomware attacks has hit companies and organisations.
Those educational institutions hit by ransomware earlier this year - affecting their ability to return to in-person teaching - included schools, colleges and universities, the foreign secretary said. The NCSC has already issued a series of alerts on the issue.
US authorities have not accused the Russian government of being directly involved, but former US intelligence officials have said that such groups could not operate without at least the tacit approval of Russian intelligence or political leaders.
The Foreign Secretary called on Russia to take action.
He described a "marathon" and a "war of attrition" to deal with hostile activity, and said the UK would keep shining a light on predatory activities as it had done recently with Russia.
He also said the UK would target those who attempted to harm it. He pointed to the creation of the new National Cyber Force which will carry out offensive operations and said its work would include denying criminal gangs access to their infrastructure and undermining their network.
He also announced £22m in new funding to support cyber capacity building in other countries - including working with Interpol to set up a cyber-operations hub in Africa.
Speaking at the same multi-day conference on Tuesday, the Home Secretary Priti Patel came out against the paying of ransoms.
"Government has a strong position against paying ransoms to criminals, including when targeted by ransomware," she said, warning that it did not guarantee a successful outcome, and risked encouraging criminality.
She also announced plans to review the Computer Misuse Act, which has been criticised as outdated.