Facebook's Oversight Board to rule on Trump ban
By James Clayton
North America technology reporter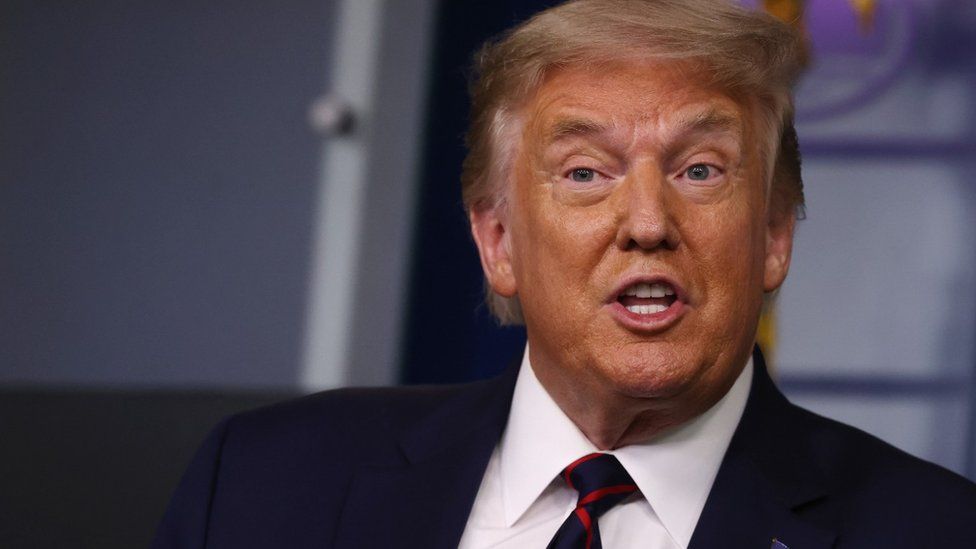 Facebook's suspension of President Donald Trump's account is to be reviewed by its new Oversight Board.
The company set up the board, which it says is independent, last year, to rule on controversial moderation decisions.
Mr Trump, whose account was frozen "indefinitely" on 7 January, will be able to submit a user statement to a five-member case-review panel.
Its ruling will be binding and apply to Instagram also. Twitter has already given Mr Trump an outright ban.
After Pro-Trump protesters stormed the US legislature, Facebook chief Mark Zuckerberg said: "We believe the risks of allowing the president to continue to use our service during this period are simply too great."
On Thursday, the Oversight Board said it had been "closely following events in the United States and Facebook's response to them.
"A decision by the board on this case will be binding on Facebook and determine whether Mr Trump's suspension from access to Facebook and Instagram for an indefinite amount of time is overturned."
The case will be assigned to a five member case review panel.
Mr Trump will have the ability to submit a user statement explaining why he believes the suspension should be overturned.
Board members include former Danish Prime Minister Helle Thorning-Schmidt and ex-Guardian editor Alan Rusbridger.
But critics say it lacks teeth, merely allowing Facebook to outsource difficult decisions, and question why no cases were reviewed before the US elections in November.
Other current cases the board is ruling on include:
photos of a dead child, fully clothed, with text in Burmese asking why there was no retaliation against China for its treatment of Uighur Muslims
an alleged quote by Nazi Germany's propaganda chief, Joseph Goebbels