Virgin Media broadband price rises of up to £54 in 2021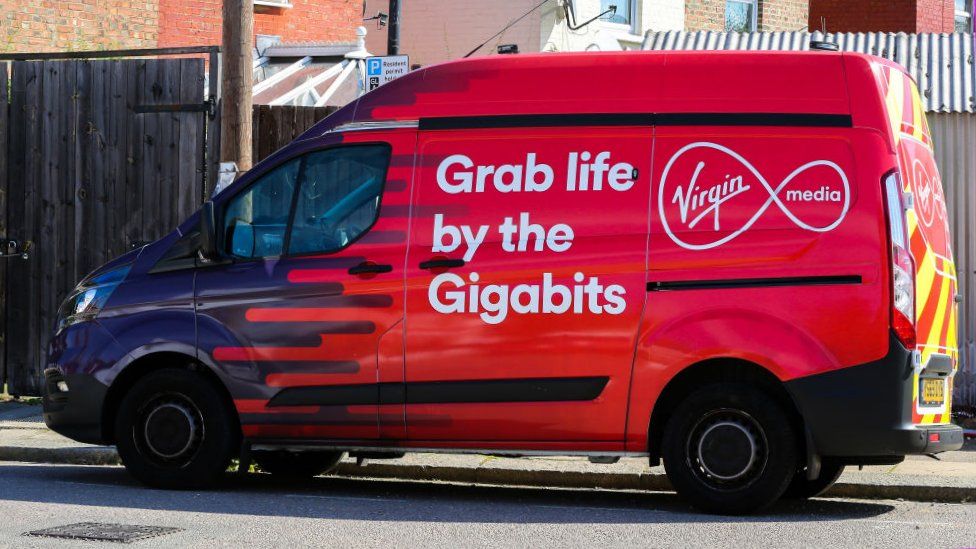 Virgin Media is alerting customers to forthcoming price increases for its broadband, TV and phone services.
It plans to invest £1bn in its network this year. Virgin did not raise prices as normal in 2020, citing pandemic-related difficulties for customers.
Other internet providers are expected to announce similar - or larger - inflation-beating increases soon.
BT's sister companies, EE and Plusnet, followed suit.
And that means their prices are likely to rise by an even higher percentage than Virgin's.
The most recent CPI rate - covering the month of November - was 0.3%, the lowest since 2016.
If it stayed at the same level for December, BT's prices will rise by 4.2% under its new rules, which it has confirmed it plans to stick with.
Billion-pound investments
Virgin Media said it was writing to or emailing all its customers to let them know how the increases would affect them.
It said most would see their bill go up by between £2.50 and £4.50 a month, which is £30-£54 a year.
The 4% average rise works out at £3.63 a month, about 12p a day.
The increases will come into effect on 1 March - but they will not affect vulnerable customers, such as those on a special package for universal credit recipients.
"Changing prices is never an easy decision, which is why, unlike other providers, this is our first cable price change in 18 months," a spokesman said.
He said the company had seen unprecedented demand since the start of the coronavirus pandemic.
"Over the last year our customers have used their connectivity more than ever before, with data use increasing at the fastest rate we've ever seen," he said.
Plusnet also confirmed it planned to press ahead with the new CPI-plus-3.9% rule, though it will hold off until June to do so.
But not every internet provider uses this system.
While others have yet to formally announce price increases, many do so on an annual basis, and usually at a rate above inflation.
Sky, for example, increased prices by up to 10% last year, with different price increases for different services, amounting to £1-£2 a month extra per service.
Natalie Hitchins, from the consumer watchdog Which, said that while investment in broadband infrastructure is a good thing, "this price-hike will sting".
"Customers should do some research to see if there are better deals on the market and if there are, they should consider switching," she said.
Anyone wanting to end their contract early will need to inform their provider within 30 days of receiving a message about the change in tariff.