LG makes shift to Mini-LED television tech at CES 2021
By Leo Kelion
Technology desk editor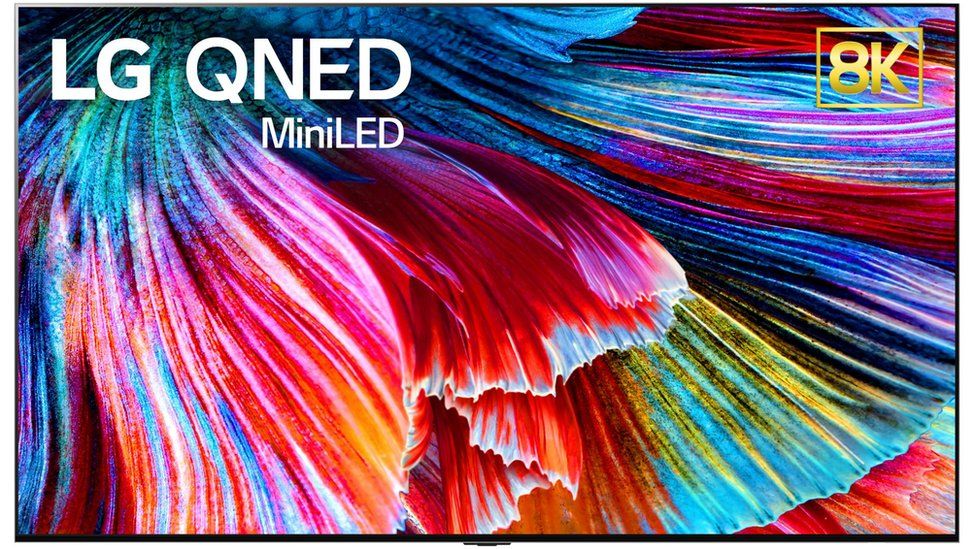 LG has confirmed plans to launch its first TVs based on Mini-LED technology.
The innovation vastly increases the number of light sources on the TV's back panel in order to deliver more "dimming zones".
These should help the screens enhance bright details without the light spilling into surrounding dark areas.
Chinese brand TCL unveiled the first TVs to be based on the tech in 2019, and Samsung is rumoured to be readying its own models.
LG has promised to show off at least 10 4K and 8K Mini-LED televisions at next year's CES, which is being held as a virtual event, rather than in Las Vegas as normal, because of the coronavirus pandemic.
"[Their] light source, brightness and contrast are far superior to that of conventional LCD televisions," it said in a press release.
LG has said it plans to market the TVs under a new QNED MicroLED banner, adding to an already confusing barrage of acronyms under which the different television manufacturers market their wares.
Q refers to the fact the displays use tiny "quantum dot" crystals to display their colours
N refers to "nano cell" particles used to absorb unwanted light wavelengths to improve colour reproduction and viewing angles
ED refer to "emitting diodes"
LG - the world's second bestselling TV brand after Samsung - has said there will be nearly 30,000 of the tiny LEDs at the back of its largest 86in (218cm) screens.
That is vastly more than the dozens of larger LEDs used in budget-priced "back-lit" and "edge-lit" TVs, or even the hundreds in "full-array models."
The LEDs are used to illuminate the screens' colour pixels.
The theory is that by having more of them, it is possible to better control which parts of the image are bright and which should remain dim.
This should reduce the blooming effect you sometimes get when displaying images such as stars in a night sky or text on a dark background, when the light appears to bleed beyond where it is supposed to.
In total, LG says the screens will have up to 2,500 dimming zones, meaning the LEDs will be controlled in clusters of 12 rather than individually.
It still will not deliver the deep blacks of OLED, where each pixel self-illuminates. Nor will it match microLED tech, where the diodes are so small they can be assigned to the pixels on a 1:1 basis.
But it should be easier to mass produce than either.
That, in turn, should mean consumers get better quality reproduction of HDR (high dynamic range)-formatted content than was possible at a lower price point than the other two technologies.
HDR allows TVs to display more vivid, life-like images and more striking special effects by taking advantage of modern televisions' higher peak-brightness limits. HDR is typically more noticeable to consumers than the shift to higher-resolution 4K or 8K formats.
LG has yet to announce what it will charge for its new screens, but TCL sells its entry-level 55in R635 mini-LED set for $699 (£510).
One expert said that at a time when the pandemic has caused people to spend more time at home watching TV, the industry is keen to convince families to upgrade.
"More people are trying to recreate a cinema experience at home," said Stuart Miles, founder of the Pocket-lint gadget review site.
"And that appetite will only grow as streaming services, like Disney+ or HBO Max in the States, release films on their platforms at the same time as or instead of at the cinema - plus you have the Olympics next year too.
"So TV-makers want to be able to promise a better experience beyond just having bigger screens, and that's easier to do if they can market themselves as offering a new technology."
CES runs from 11 to 14 January in 2021 and should feature a range of new televisions and other gadgets from manufacturers large and small.