Twitter hides Trump mail voting tweet ahead of polling day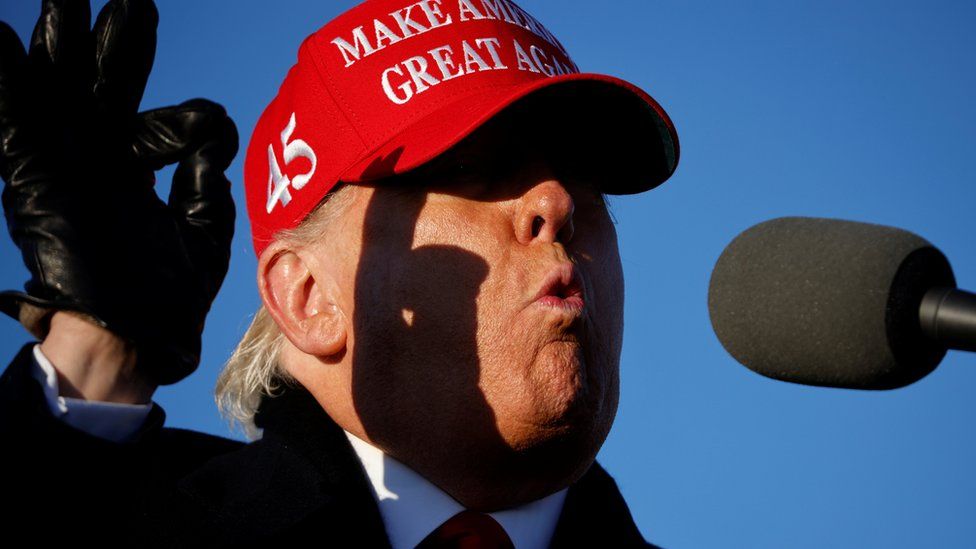 Twitter has hidden a tweet from President Donald Trump about voting, hours before election day.
Mr Trump tweeted that a Supreme Court decision to allow more time for postal ballots to arrive in Pennsylvania was "very dangerous".
He once again made the widely debunked claim that "rampant and unchecked cheating" would follow.
Facebook also labelled the message with a fact-check that contradicted the president.
Mr Trump also claimed that the court decision would "induce violence in the streets" and that "something must be done!"
On Facebook, the social network did not hide the post, but added the warning: "Both voting by mail and voting in person have a long history of trustworthiness in the US. Voter fraud is extremely rare across voting methods."
His rival Joe Biden spent the final hours before polling day urging people to make sure they voted, as well as making explicit and direct attacks on President Trump's record in office.
What was the Supreme Court decision?
Vast numbers of Americans have already voted and many have done so by postal ballot, known as mail-in voting in the US.
Controversy around postal delays has led to concerns that not all ballots will reach counting centres in time.
The US Supreme Court recently refused to block a lower court's decision to extend Pennsylvania's deadline for receiving mail-in ballots by a few days, as long as the votes were postmarked by election day, showing that they had been in transit since.
Mr Trump has repeatedly condemned mail-in voting as unsecured and prone to massive voter fraud. But that is not supported by precedent, and voter fraud has historically been very rare.
Republicans have filed a number of legal cases against alternative types of voting in some states.
Why are Twitter and Facebook labelling posts?
Both Twitter and Facebook have significantly beefed up their policies around election misinformation, including around results.
Twitter says candidates will not be allowed to claim victory before a realistic bar is reached. Facebook has banned ads that claim victory early, and has told reporters it had some unspecified "break-glass" emergency options ready.
But concern remains over whether either network is fully equipped to deal with contested election results and the potential spread of misinformation.
The Election Integrity Partnership (EIP), a coalition of various pro-democracy and internet groups, is one entity expecting a deluge of misinformation immediately after polls close.
It characterised Mr Trump's tweet about mail-in voting as "fomenting fear of violence", and said it was part of a broader attempt to spread false information about the legitimacy of the election.
3/5 Around 40 min later, Twitter took action by hiding the tweet behind an informational label and preventing it from being retweeted. The graph below shows the rate of retweets and quote tweets, which were dramatically reduced after Twitter took action https://t.co/t0w183GgxZ pic.twitter.com/ZN5CwHvTxn

— Election Integrity Partnership (@2020Partnership) November 3, 2020
When Twitter added its warning label and stopped recommending the tweet, some 40 minutes after it was posted, it had already been retweeted 55,000 times and liked 126,000 times, EIP said.
"As a result, despite effective action within an hour by Twitter, much of the damage was likely already done.
"As we approach the predicted chaos of tomorrow, it may be wise to increase the pace of moderation, especially around premature projections and claims of victory," it warned.