Amazon's Jeff Bezos promises climate-change action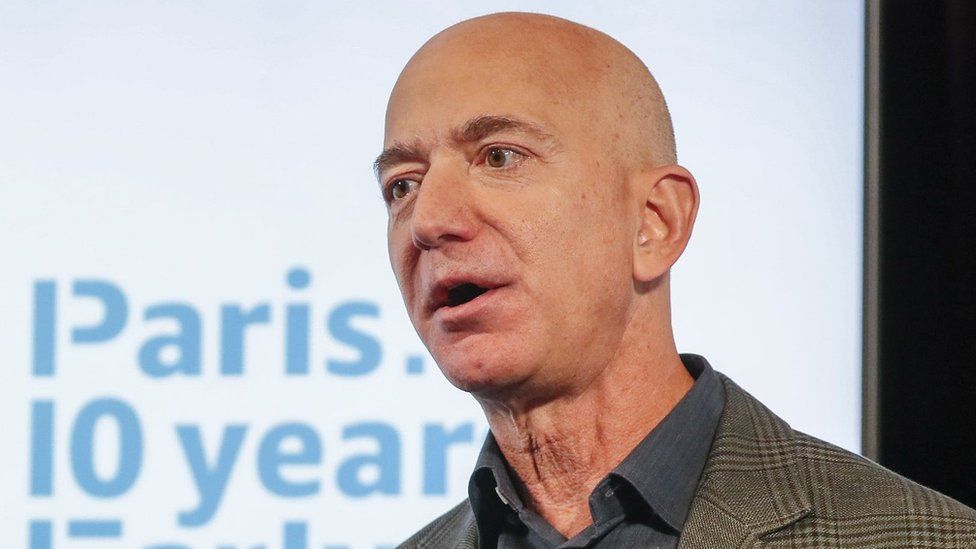 Amazon chief executive Jeff Bezos has promised to make the company carbon neutral and meet the goals of the Paris climate agreement by 2040.
More than 1,500 Amazon employees have pledged to stage a "walkout" protest against the company's environmental record, on Friday.
It will be the first walkout by staff at Amazon's Seattle headquarters.
Organisers have welcomed Mr Bezos's promise but say it does not go far enough.
Amazon's Climate Pledge is a huge win for @AMZNforClimate & we're thrilled at what workers have achieved in under a year. But we know it's not enough. The Paris Agreement, by itself, won't get us to a livable world. Today, we celebrate. Tomorrow, we'll be in the streets.

— Amazon Employees For Climate Justice (@AMZNforClimate) September 19, 2019
Mr Bezos said he hoped to make the company carbon neutral 10 years earlier than expected.
At a press conference in Washington DC, he announced the launch of a climate pledge any company can sign up to.
Its aim is to meet the targets set out in the Paris agreement by 2040, 10 years earlier than specified.
Greenpeace welcomed the announcement but said Amazon needed to end its use of fossil fuels.
"If Jeff Bezos wants Amazon to be a leader on climate, he needs to spell out exactly how it is going to rapidly move the company off of fossil fuels to keep our planet within the 1.5 degree temperature threshold in the Paris Agreement that Amazon has now committed to," the organisation said.
"Throwing money at carbon offsets and continuing to support the oil giants find even more oil is an early indication that Jeff Bezos doesn't understand the transition that is needed."
To meet its pledge, Amazon said it had ordered 100,000 electric delivery vehicles to reduce its fuel consumption. The first will enter service in 2021.
As well as its online shopping and delivery operations, Amazon operates vast data centres and cloud computing services.
According to the International Energy Agency, data centres were responsible for about 1% of the world's electricity use in 2018. And demand for cloud computing is expected to increase.
Mr Bezos said 40% of the energy Amazon used was currently from renewable sources but this would rise to 100% by 2030.
Amazon will also invest $100m (£80m) to restore forests and wetlands.
The company will also measure and report greenhouse gas emissions regularly.
"We want to use our scope and our scale to lead the way," said Mr Bezos in a press statement.
In June 2017, the Trump administration said the US would withdraw from the Paris climate accord.
But Amazon said it would meet the targets set out in the agreement 10 years "ahead of schedule".
The disruption was timed to coincide with Prime Day, when Amazon offers discounts and promotions.