Giuliani's Twitter typo used to abuse President Trump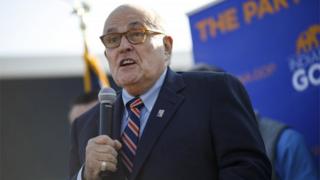 A critic of President Trump has taken advantage of a Twitter typo by his lawyer, Rudy Giuliani, to mount an attack.
Mr Giuliani left out a space between a full stop and the following word within a tweet, which caused the text to become a link.
The prankster subsequently acquired the webpage it directed users to.
There, they posted a brief message saying: "Donald J Trump is a traitor to our country."
Mr Giuliani's tweet - which has been "liked" more than 39,000 times and retweeted more than 14,000 times - is still live, at the time of writing, four days after being created.
Twitter turns text into a hyperlink only if it recognises the letters after a full stop as representing an established top-level domain (TLD) name.
In this case, the former New York mayor was unlucky to have begun his follow-up sentence with the word "in" - which is used to denote domains operated under the authority of India.
He should have been alerted to his typo by the text changing from black to blue but may not have noticed.
The website involved was set up by Jason Velazquez, a marketing director based in Atlanta, Georgia, who bought the rights to use the domain for one year.
"When I noticed the accidental link on Giuliani's tweet, I clicked on it," he told the BBC.
"When I realised that the URL was available, my heart began to race a bit. I remember thinking: 'This guy - Giuliani - has no idea.'
"I quickly upload my files, tweeted about what I had done, and left my apartment.
"Four days and a couple thousand retweets later, Giuliani's tweet is still up. And that's the best part. He either has to leave the tweet up or delete it entirely. He can't edit it."
Hundreds of other people have replied to the original post to draw attention to it and mock the mistake.
Mr Giuliani - who also serves as President Trump's cyber-security advisor - responded on Tuesday evening with a tweet that accused Twitter of being culpable.
This is not the first time a Twitter typo by Mr Giuliani has drawn the wrong kind of attention.
In August, he accidentally wrote "hate 'me" rather than "hate 'em" leading several users to respond that they were happy to comply.
In that case, he also opted not to delete the tweet even after it had been noticed by the media.